2 Days in Cork
Cork city is having a moment. While Ireland's capital, Dublin, may be the largest and most visited city in the country, Cork offers a revitalized waterfront, plenty of live music, and quite possibly the best foodie scene on the island. Whether you want a cozy pub with traditional Irish fare, international cuisine, quality vegetarian options, or farm-to-table restaurants serving up the best of the season, you'll find something for everyone's taste.
Steeped in history, Cork was founded as a monastic settlement in the 7th century. For centuries, the city weathered raids and periodic settlement by Norsemen, and eventually came under English rule in 1185. A long struggle for Irish independence soon followed. In the 18th century, Cork thrived thanks to exports of butter, whiskey, beer, and beef. Although famine devastated the city and country in the mid-1800s, and many who survived emigrated, today, the city is modern and thriving while preserving its history and traditions. Cork is perfect for urban adventuring and wandering without a set destination in mind. This is all good news for those of you joining Boundless Journeys for our Ireland Walking Tour, because you already know that walking is the best way to explore a new place, and your trip begins and ends in Cork! Come to Ireland a couple days before your tour departs and adjust to the new time zone, or relax at the end with all the sightseeing, food, and surprises the city has to offer. Whatever you decide, here are our suggestions to help you plan your stay in Cork.
What to Do:
Start your day at the Liberty Grill for breakfast, brunch, or even lunch if you feel like starting your day a bit later. From there, head to one of Cork's most iconic landmarks and one of the city's oldest building—St Anne's Church. You can climb the 132 steps to the top of tower and ring the famous Shandon Bells about half way up, then enjoy 360 degree views of the city from the top.
While in the Shandon district, stop at Shandon Sweets the nearby candy shop that's been owned and operated by the same family since the 1920's. Using only pure ingredients, the father and son team still make the sweets by hand. Watch them work and grab a treat for a trip back in time.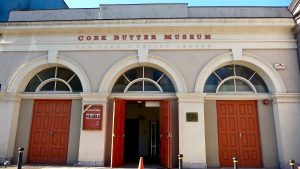 A block away, continue your trip to days gone by with a quirky history lesson at the Cork Butter Museum. Small but informative, the museum celebrates Ireland's most important export from the beginning of dairy farming in domestic life, to Cork growing as a trading city in the 1700's and the eventual development of the Cork Butter Exchange—becoming the largest butter market in the world.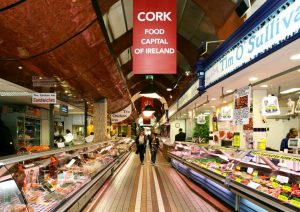 This brings us to a different type of market: the English Market. An absolute must-see on your trip to Cork (even Queen Elizabeth visited here in 2011), the market is housed in a brick and iron building with 140 stalls and features purveyors of bread, olive oil, meats, and cheeses. There is a fresh-fish alley and the well-known O'Reilly's Tripe and Drisheen—the last existing retailer of a Cork specialty, tripe (cow's stomach), and drisheen (blood sausage). As you wander, purchase items for an outdoor picnic or stop for a meal at the Farmgate Café, located in a terraced gallery above the market. All ingredients at the café are sourced directly from the local vendors, so this is a great place to try tripe and drisheen, if you feel adventurous, or corned beef and colcannon (mashed cabbage and potatoes) for something more accessible and delicious.
Next, head west to Fitzgerald Park. Spanning 18 acres, the park features onsite gardens, swings, a fountain, and the Cork Public Museum, which housed the Cork International Exhibition of 1902 and 1903 before opening as a public park in 1906. Admission is free, and you can picnic, play, rest, or wander the park; the choice is yours.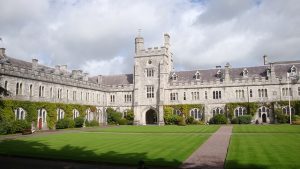 As you make your way back to center city, first explore the beautiful campus of the University College Cork, where you'll find old buildings and lovely grounds. Be sure to visit the President's Garden, which contains giant redwoods planted in the 1840's at the college's inception.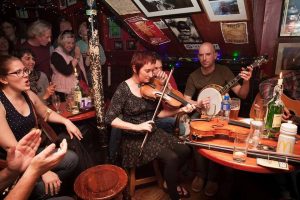 For dinner, we recommend making reservations at Café Paradiso, which serves highly-acclaimed vegetarian fare and has become an iconic restaurant of Cork thanks to Chef Denis Cotter's innovative, global cuisine made from local ingredients. Carnivores, trust us on this one. Afterwards, walk off the meal on a 15-minute stroll to Sin É, a classic Irish pub that has been open since 1889. Live, traditional Irish music is played here every night from 6:30 until closing time, which is a perfect way to end the day.
Other sites:
On a second day, you may want to consider venturing further outside of Cork.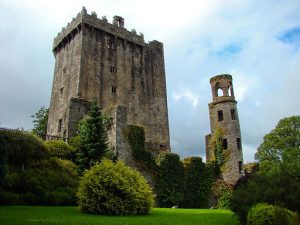 Blarney Castle is easily accessible by public bus. Whether kissing the Blarney Stone is on your bucket list or something you'd rather brush off as a tourist trap, note that the castle itself is a historic site from the 15th century and the grounds are lovely to explore. There's even a grove of ancient yew trees said to have been a site of Druid worship.
Cobh Harbor is another easy day or half day trip, accessible by rail. The harbor is beautiful and allows for some coastal walking, while the town of Cobh offers easy access to attractions like St. Colman's Cathedral and the Queenstown Story Heritage Centre.
Where to Stay:
We recommend the River Lee Hotel or Hotel Isaacs for all of our pre- and post-tour nights. Both offer a central location within walking distance to all of downtown. The River Lee is closer to Fitzgerald Park and the University, while the Hotel Isaacs has an onsite restaurant (Greene's) and bar (Cask) that make staying close by an easy option.
Getting around:
Transport for Ireland has information on estimated taxi fares, bus routes, and rail schedules. Additional detailed bus information can be found at Bus Éireann.
Enjoy your stay!