Interview with our Spain Guide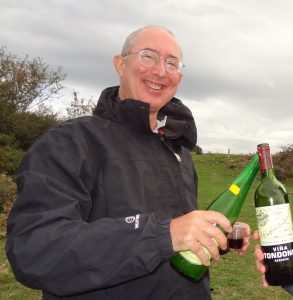 Nick is a U.K. ex-pat residing in Barcelona and has been guiding and designing active cultural tours in Spain for nearly 20 years. His passion for Spanish culture and heritage have, at times, led him to writing, translating, editing, publishing, and teaching, including time at the University Complutense in Madrid.
Nick's ample experience and a love of all things Spanish (especially food and wine), make him a fantastic traveling companion on our Camino de Santiago tours, where guests continuously comment on his extensive historical knowledge and friendly manner.
What first got you interested in a career guiding?
When I first moved to Madrid in 1990, I joined a hiking club to improve my Castilian, stay in shape, and make new friends. Eventually, I volunteered to guide for the club. That's how it all started!

What makes Spain so special?
There is something really special about the warmth and hospitality of Spaniards and their capacity to enjoy life. That's why I love living here.
What's your favorite thing to teach/show travelers about the country?
So many things! But primarily, the varied and fascinating history of Spain, its diversity of languages and landscapes, and the importance of gastronomic culture in the daily lives of Spaniards.
Where would you like to go that you haven't explored yet?
I would really love to hike in New Zealand and Japan.
What do you enjoy most about guiding?
I find it utterly wonderful introducing people to and sharing the delights and peculiarities of my adopted country.
What's your favorite food?
That is hard to narrow down. It spans the gamut—sea urchins, octopus, grilled sardines, Palamos prawns, and a very rare Basque chuleton (bone-in steak) accompanied with good wine or a dry Spanish cider.
If you could meet anyone living or dead, who would it be and why?
I've always thought it would be amazing to have a conversation with Charles Darwin. He was a genius and transformed the way we think about the natural world and our place in it.
Do you have a personal motto that you try to live by?
Carpe Diem! You're dead for a long time, so get the most out of your life!