4 Life-changing Travel Moments
We frequently receive emails, phone calls, and even letters after our guests return from their Boundless Journeys adventures. They express gratitude for our knowledge and adept planning, enthusiasm for what they learned and witnessed, and "boundless" praise for our phenomenal guides. We most enjoy when they include an anecdote of a moment or experience that was truly memorable or life-changing—something that will stay with them forever.
We love reading and listening to these stories—many of which we have experienced ourselves—and want to share a few examples that we hear about most often.
What types of transformative experiences will you have with Boundless Journeys? Read about a few of them below.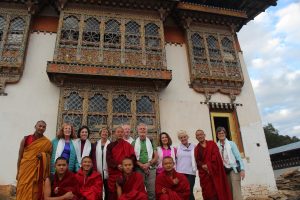 Connecting with locals for eye-opening cultural exchanges…
Driving up the remote and winding road to the Nalanda Buddhist Institute you think, "where is this place?" The complex of temples and monks' quarters has an enviable view of the valley and mountains beyond. You chat for the next hour with a few teenage monks who are shy, yet eager, to practice their English. They share their worldview, and you learn why they pray for all sentient beings. In return, you've helped them connect and learn about people from places far beyond the walls of their monastery. Learn more about our Bhutan journeys.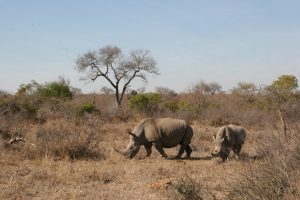 Observing endangered species in the wild…
It's one thing to observe animals from the elevated view of a vehicle, it's quite another to watch them at eye level, your feet sharing the same ground. As you make your way through the bush, your guide quiets the group—three rhino are browsing a nearby thicket. Due to their poor eyesight, you can observe unnoticed from a safe distance. Suddenly, the wind shifts, and the rhino catch your scent, crashing off into the bush. "And that," says your guide as you continue on, "is why it's called a crash of rhino." Learn more about our South Africa safaris.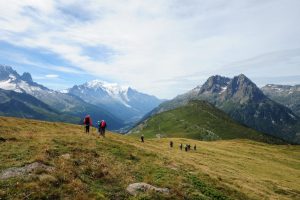 Completing one of the world's most epic hiking routes…
There are countless breathtaking vistas on the Tour du Mont Blanc, from spiky "needle" peaks to sprawling green valleys. But on the final day, as you make your way back to the cozy village of Chamonix, the greatest moment is cresting the final hill and seeing the entire Mont Blanc massif before you. The feeling of accomplishment washes over you—having walked close to 60 miles around Western Europe's highest peak and in some of the most remote and beautiful trails on the continent. Learn more about our Tour du Mont Blanc trip.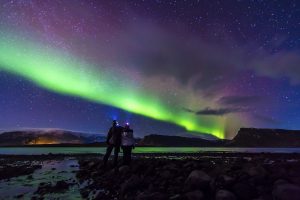 Witnessing nature at its most spectacular…
Dinner is filled with anticipation as your guide checks the aurora forecast. Just as dessert arrives, he says it's time. The group gathers outside in warm clothing and waits. Someone spots the first faint glow, and it builds slowly until ribbons of color fill the sky—blues, greens, purples, and pinks. It seems as though the lights might envelop you. The show lasts an hour or more, and then you return to the delicious warmth of the lodge to finish your meal, already eager for tomorrow's display. Learn more about our Northern Lights Adventure.