A Day in Tuscany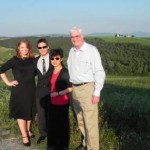 Many times we are asked to describe a typical day on one of our trips. This is truly a difficult request as our trips are often filled with what our Italian guide calls "UPS's" or unplanned surprises. This might mean stopping to visit with a local family, being welcomed into a trattoria for a wine and cheese tasting, stopping to take in an incredible view at sunset, and many other spontaneous events that can only be experienced in a small group with an experienced, local guide.
One of our recent guests wrote a book about his experience on Boundless Journeys Italy: A Tuscany & Umbria tour. To give you a "taste" of this tour, and our wonderful guide, Alex, we have included an excerpt from his book below:

DAY 1 on Boundless Journeys Italy: A Taste of Tuscany & Umbria Tour
Siena and Montemerano
We meet Alex Gullo, our guide, and our traveling companions in Florence, board our van and get on our way to Siena, rushing almost immediately into a traffic jam (happily, the only one of our trip).
Alex, 44 years old, tells us that he's been guiding for a good many years; "I feel this is my vocation!" His English is accented but very fluent, and he says that he spend nine years in the United States, most of his teenage years. Then he returned to Italy, met and courted his wife, and is now the exceedingly proud papa of seven children, ages under-two to twelve. When we ask if this isn't pretty much the norm for Italian families, he says, "No, it used to be, but now families are small, just two kids., maybe three, and Italy is losing its population, but I'm trying to get it back where it was."
As we approach Siena Alex explains that we will be meeting Anna Lisa, a guide who will show us Siena. We wonder why he doesn't do this; he explains that he's licensed in Umbria but not in Tuscany so he cannot show us around the Duomo here.
We have all heard about the Palio, the horse race that occurs annually in Siena. Alex undertakes to give us the cultural background of this race. Siena evolved into seventeen neighborhood associations called contrade, each of which claims a specific geographical section of Siena. Each contrada enters a horse in the Palio, which is run twice a year, but because of space constraints, only ten horses are entered into each race. The contrade are selected for the two races by lottery, such that each year three lucky contrade may run twice. The Palios are run in the large main square, Il Camp, and are, according to Alex, races rife with Machiavellian plans and plots, as the contrade form transitory alliances one with another in an effort to gain momentary advantage.
Once in the Campo, we meet Anna Lisa, who gives us all a gelato (our traveling companions' very first), and then takes charge, leading us to the Duomo.
Siena's Duomo is one of the major cathedrals in Italy. It was built in the thirteenth century with Giovanni Pisano's façade being finished just before 1300. At just that time, work on the Duomo in Florence commenced; this was intended to be larger than Siena's causing consternation in that city (as was all too likely with any neighboring cities in Italy, Siena and Forence engaged in intense rivalry in all matters, not infrequently involving war). The Sienese promptly made plans to rebuild their cathedral, doubling its size. Construction began anew in 1339, but before they got too far along the Black Death came (in 1348) laying waste to just about everyone everywhere, and plans to enlarge the cathedral were abandoned. If it isn't one thing it's another: Siena rarely won these tussles with Florence.
We are lucky in our timing, for the mosaic floor of the cathedral is of real interest, and it is covered most of the year, being on display only about 8 weeks of the year. One panel is truly startling because of its scandalously naked lady.
Anna Lisa explains: the lady is portrayed gaily stepping onto a boat, her other foot planted on a round stone, her position being thereby inherently unsteady, and proceeding briskly in the direction of incipient disaster. This is clearly not the right way to go. In the other direction lie sages and clerics, church AND learning.
Her job done, Anna Lisa turns us back over to Alex, who returns us to our van. On the way he takes us past the font of this personal favorite contrada, la pantera. Pointing out an announcement of a newborn panther (born on my birthday!). The child will soon be brought to this place and "baptized" with water from the font beneath the cat. Alex illustrates by sprinkling us, saying, "Now you are pantera."
We then drive to Montemerano, a small hill town in southern Tuscany. I tell Alex that at a restaurant in Sorrento I had spaghetti and was offered a spoon, presumably with which to twirl my noodles. Declining the spoon, I looked around; I could see no one using a spoon for this purpose. Doesn't this practice come from Italy? Alex says he doesn't think Italians use a spoon to twirl with.
We are staying at Relais Villa Acquaviva where we begin to appreciate that we have signed up for some really luxurious living with Boundless Journeys. We are not complaining, mind you; it is easy to bend with this particular wind. We have a veranda looking out over a vineyard. We celebrate by washing our socks and shirts and hanging them out to dry on our veranda.
The villa also is an active winery, and we are treated to a wine tasting of their stock: four reds, a rosé and four whites. This is mostly wasted on me and Leanna, but Marc does very credible duty as an aficionado. And increasingly our hostess looks to him for his responses. If I can't appreciate their finer qualities, I still feel their effects, and by the time we are done I am just a little light on my toes.
After that we repair to supper at a local restaurant housed in a former olive oil mill, the first of many exceptionally fine meals, featuring many courses and wines. Among the dishes here are ribolita, a vegetable pot-au-feu which, Alex tells is, consists of adding different vegetables to the pot each day and keeping it boiling. We also have incredibly delicate and delicious gnocchi.
Randal Whitman, May 2011
Discover this enchanting region with our local guide Alex, May 12-19, September 15-22, or October 13-20, 2012. For more information visit our Tuscany & Umbria trip Web page, or contact our Italy Destination Manager, Deborah Tobey at 1-800-941-8010 or Deborah@www.boundlessjourneys.com.