Namibia Unveiled as First Location in NBC TODAY Show's "Where in the World is Matt Lauer?
November 2011 – Namibia was chosen as the first location for the 10th anniversary of the TODAY Show's popular "Where in the World is Matt Lauer?" series. TODAY's "Where in the World" features Lauer's exotic travels around the world and Namibia was selected by its producers to kick off the week-long series, thanks to the country's stunning scenic landscapes, incredible wildlife and successful conservation initiatives.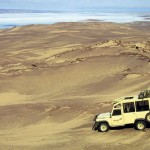 As Namibia was revealed as Lauer's first secret location with him standing atop a sand dune – which he later skied down – at the start of TODAY, he remarked, "We're in one of the most amazing countries we've been to in the 10 years I've been doing this series. It's like something out of a movie."
TODAY's crews experienced a number of the regions in which Boundless Journeys operates, from the stupendous Sossusvlei dunes to the starkly beautiful Damaraland. Matt marvelled at the conservation success story of Namibia, including the protection of the unique and endangered desert-adapted black rhino.
Savannah Guthrie — who was waiting for Matt on the coast — was in awe of the amazing desert-adapted elephants that thrive in the area. TODAY crews also spent time interacting with the people of the country, including the Himba.

"The people are the best part about the country," said Guthrie. "They are so friendly and welcoming."
To see the extensive coverage of Namibia: View the videos.
For more on Boundless Journeys trips to Namibia click here.
About Boundless Journeys
Boundless Journeys is an award-winning small group adventure tour operator. With a diverse collection of locally guided, small group itineraries and Private Collection trips around the world, Boundless Journeys offers "The World's Great Adventures." The adventure trips for 2-16 guests are active, ranging from leisurely cultural explorations and wildlife safaris to challenging trekking in remote regions ― with plenty of easy to moderate walking and sea kayaking in between.