Bhutan Tours – Tips for planning Bhutan Travel
Bhutan travel is more popular than ever, and choosing the right company to plan your Bhutan tour is crucial. Here's how to determine which companies are the best Bhutan tour operators.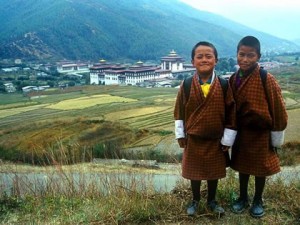 Ease of Communication: Choosing a U.S. based operator allows you to ask questions over the phone, and receive prompt responses to emails.
Flexibility of itineraries: Looking for a challenging Bhutan trek? Or do you prefer a more leisurely Bhutan festival tour? Choosing an operator offering a variety of scheduled group departures as well as the ability to customize your journey will ensure that you will find the right Bhutan travel experience from the start.
Tour style: Expert local guides, small groups that average just 8 or so guests, well-located accommodations, and safe, reliable transportation are all essential to insure a memorable Bhutan tour.
Boundless Journeys' Bhutan travel expert, Matt Holmes, offers several options for Bhutan tours:
Bhutan: A Journey into the Peaceful Kingdom; Land Cost: $4495* per person
*Now save $500 per person when reserving October 13-24 or November 17-28 departures.
Bhutan: Festivals of Bhutan; Land Cost: $3895 per person
Bhutan: The Chomolhari Trek; Land Cost: $4395 per person
Bhutan & Nepal: Himalayan Kingdoms; Land Cost: $4595 per person
Customized and private Bhutan tours are also available. To reserve, contact Boundless Journeys at 1-800-941-8010 or reserve online at https://www.boundlessjourneys.com.
About Boundless Journeys:
Boundless Journeys is an award-winning small group adventure tour operator, selected as one of the "Best Adventure Travel Companies on Earth" by National Geographic ADVENTURE, February 2009; and a "World's Best" tour operator by Travel + Leisure, August 2009.
With a diverse collection of locally guided, small group itineraries around the world, Boundless Journeys offers "The World's Great Adventures." The adventure trips for 2-16 guests are active, ranging from leisurely cultural explorations and wildlife safaris to challenging trekking in remote regions ? with plenty of easy to moderate walking and sea kayaking in between. For more information, please call 1-800-941-8010 or visit https://www.boundlessjourneys.com.