Big Plans after the Big Day?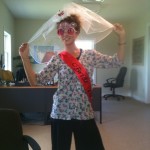 Since I work for one of the industry's top rated adventure travel companies, as I have been planning my upcoming September wedding I have gotten many questions along the lines of "Where in the world are you going to choose for your honeymoon?"
As life would have it there is no time in my schedule for an epic adventure at the moment, but to answer everyone's queries, if I could choose anywhere in the Boundless Journeys collection of adventures, here are a few of the places I would head for some R & R (and by the way, to us R & R means exploration, culture, adventure, good food, and even better company). What also makes these destinations fabulous is that Boundless Journeys offers them as scheduled small group departures or Private Collection trips, so if we felt like making new friends or having some alone time, our options would be wide open.

• Botswana: Yes indeed, nothing to make you appreciate your newly wedded partner than a lion or a 6-ton elephant staring you in the face. The amazingly romantic camps, killer food, and adventurous spirit of Southern Africa doesn't hurt either…
• Costa Rica: Both eco- and economically friendly, this spot should be a destination for all new couples. Beaches, ziplines, rainforests, rivers – never a dull moment to supercharge the beginning of your life together.
• Turkey: In a time where there is still much to discover about each other, there would be no better way to complement the process than to have an in-depth educational experience about a far away land as well. Turkey is so very mysterious, beautiful, and historical all at the same time; never a dull moment between cruising, hiking, and dining. Perfect.
About Boundless Journeys
Boundless Journeys is an award-winning small group adventure tour operator. With a diverse collection of locally guided, small group itineraries and Private Collection trips around the world, Boundless Journeys offers "The World's Great Adventures." The adventure trips for 2-16 guests are active, ranging from leisurely cultural explorations and wildlife safaris to challenging trekking in remote regions ― with plenty of easy to moderate walking and sea kayaking in between.