Tropical travel tips for families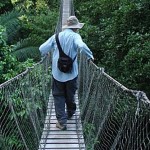 Every family should visit the tropics at least once. In no place other than the rainforest is the range of animal and plant life so rich and wonderfully diverse, and there is nothing in the world quite like a brightly colored coral reef. However, some visitors from more moderate climates find tropical heat and humidity off-putting. Here are a few tips to help you and your family stay comfortable and healthy while traveling in the tropics:
1. Be careful what you drink, but drink plenty. Stick to bottled water to avoid stomach upsets but don't let caution get in the way of rehydration. Carry a generous bottle of water with you and keep the kids drinking regularly. While they're playing on the beach stopping to have some water will probably be the last thing on their minds.
At the very least, dehydration can make both kids and adults tired, lethargic, and less able to enjoy themselves. It's definitely best avoided and if you feel thirsty, your body needs water and needs it now. Keep sipping when it's really hot, and make sure the kids do too!

2. Pack for the heat. Tropical weather is usually very predictable from day to day so it should be pretty easy to find out what temperatures to expect and whether or not it's likely to rain. Choose loose breathable clothing in fabrics like cotton and linen and be sure to include a hat to keep the sun off.
Note that the waterproof rain jackets that keep you and your kids dry at home might not be ideal for a hot, humid tropical climate. They probably won't be made from breathable material may feel very sweaty and uncomfortable to wear in the heat. Simple plastic ponchos are much more suitable for the tropics. They can be worn over anything (including a backpack), allow plenty of airflow, and cost no more than a few dollars each.
3. Eat at reputable restaurants. If you're on an organized tour, the operator will know all the best places to eat but if not, choose with care. The treats sold by street vendors can be delicious but food safety standards might not be all that high. If you do want to sample local food from a market or street vendor, consider something vegetarian, as dishes without meat are much less likely to cause stomach problems.
4. Carry a first-aid kit. Insect repellent and antiseptic are indispensable. Small scratches and grazed knees that would heal up quickly at home may not do so in a hot, humid climate, so treating even the tiniest wound with antiseptic is a very a good idea. The kit should also contain rehydration packets in case of diarrhea or dehydration, and an anti-itch cream for insect bites may also come in handy.
5. If it's really hot, make the best of morning and evening. Early mornings in the tropics can be cool, fresh, and gorgeous- by far the most pleasant part of the day- and you can always have a nap through the afternoon heat. The hottest part of the day is also a good time to go swimming or visit an air-conditioned indoor attraction. Plan your activities around the temperature, just like the locals do.
Jess Spate works for Appalachian Outdoors, a US retailer carrying a good selection of kids outdoor and travel gear. She has traveled extensively in tropical areas, and should be back in South East Asia before the year is out.