Water activities in the Linyanti Concession, Botswana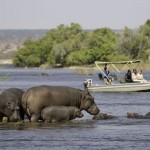 With the rebirth of the Savute Channel, and greater inflows into the Linyanti River itself, the waterways of the Linyanti Concession area are now offering new opportunities to explore. It is possible to create unique combinations of activities like canoeing, walking and boating, depending on time of year and water levels.
At Savuti Camp canoeing is proving to be an extremely popular activity depending on local water conditions. This camp also has boat activities on offer. Game viewing can be excellent from the boat, with elephant, giraffe, buffalo and hippo sighted frequently. There have even been sightings of lion and leopard and on one occasion to date, cheetah! Boat rides can be taken in the morning, at midday, or as an afternoon activity.

At Kings Pool Camp a barge is on hand to explore the Linyanti River. Late afternoon cruises are most popular, when the possibility of encountering animals coming to the river to drink is at its best. The barge is also able to be used for special occasion activities.
DumaTau Camp offers boat cruises in the Linyanti River. These trips offer excellent bird watching, as well as the possibility of seeing mammals. During midday and afternoon cruises, there is always the chance of seeing elephant drinking at the river, or even crossing the water.
About Boundless Journeys
Boundless Journeys is an award-winning small group adventure tour operator. With a diverse collection of locally guided, small group itineraries and Private Collection trips around the world, Boundless Journeys offers "The World's Great Adventures." The adventure trips for 2-16 guests are active, ranging from leisurely cultural explorations and wildlife safaris to challenging trekking in remote regions ― with plenty of easy to moderate walking and sea kayaking in between.