Botswana Safari News, Black Rhino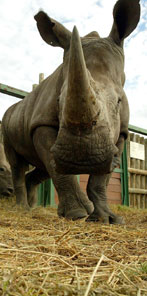 Botswana: Wilderness Safari; Choose Botswana for its diverse wildlife and luxurious camps, connected by bush flights. Being in the Okavango Delta allows for a variety of activities in addition to traditional game drives, including mokoro canoeing, game tracking walks, and boat trips on the mighty Zambezi River.
Namibia: Desert Flying Safari; While not as prolific for game as Botswana or Tanzania, Namibia offers unusual wildlife (desert-adapted elephants and rhino, and remarkable insect and bird life) and unusual geology, with expansive deserts and salt pans, as well as the unique culture of the Himba people. Namibia makes a wonderful extension to Botswana safaris, or a great stand-alone destination for the true safari lover.
Join Our Inner Circle
E-mail is the best way for us to let you know first about new trips, travel tips, special events, and current promotions. Sign up for our e-newsletter, e-mail your name and address to info@www.boundlessjourneys.com, or give us a call (800-941-8010), and we'll keep you in the loop! We respect your privacy and will never sell or share your e-mail address with any third party company, and our unsubscribing process is easy and prompt.