Choosing a Travel Camera for Adventure Traveling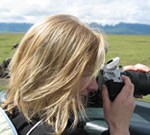 Sitting in the airport ready for takeoff, doing a quick last check of your travel essentials: passport, visa, booking details, currency, insurance documents, phone, camera, (pause…) camera. Oh, no! Can you imagine going on your trip of a lifetime, having forgotten your camera? I know what I would do. I would quickly get into the airport's electrical retailer and flex my plastic! But, where to start? Here is a brief guide to the types of cameras on the market.
SLRs and travel lenses
Well, if you know your SLR (Single Lens Reflex) cameras, you probably don't need much advice here. That said, the market has changed somewhat, especially since the launch of smaller models by Panasonic, and the introduction of HD video functions. If you want to lighten your camera bag, you may be interested in getting just one lens. A good travel lens has a wide range, 28-135mm, ideally is 'light fast' with a small minimum aperture, and is well finished to help hold off the scratches. Invest in a filter or two, even if it is only to cover the lens. And remember: You don't have to buy the same brand lens as your camera body, just make sure if you have a Nikon camera, you buy a 'Nikon fit' lens.

Hybrid and 'bridge' cameras
Perfect for photo enthusiasts, small enough to carry everywhere and packed with features, 'bridge' cameras have come of age. By shoehorning larger sensors into smaller camera bodies, the leading manufacturers have perhaps created the perfect travel camera. If you are confused by complex looking SLRs, but want top quality images and creative controls, then look no further. As well as options to shoot manually, these little powerhouses retain their simple preset functions and can snap and shoot all day.
Compact and mobile phone cameras
Compact cameras are not what they used to be. Packed with gizmos, such as smile recognition, HD video and even wireless printing, for most people a good compact will suffice. Don't think that just because they look less substantial, they will take poorer images. Smaller sensors yes, but these models are forgiving and intelligent. So when your trek takes you off the beaten track and inside a local community center, and others are fumbling with their camera settings, you will be snapping. Great for street photography, as well as general documentary shots. As for mobile phone cameras, don't write them off. Sporting 12MP and built-in flash units, results from some of these travel multi-tools are remarkable.
Ruggedized cameras
If your trek needs you to rough it, perhaps ask yourself: Is my camera tough enough? Protective casings are available and underwater housing can be fitted to most SLRs. Dry bags and camera bags are another option. But to trump all this, there are some cameras built especially for the elements. Waterproof, shockproof, dust-proof, you-name-it-proof, most of the major manufacturers have these beefed-up beauties. A very sensible choice for overland treks and rugged trips.
About Boundless Journeys
Boundless Journeys is an award-winning small group adventure tour operator, selected as one of the "Best Adventure Travel Companies on Earth" by National Geographic ADVENTURE, February 2009; and a "World's Best" tour operator by Travel + Leisure, August 2009.
With a diverse collection of locally guided, small group itineraries and Private Collection trips around the world, Boundless Journeys offers "The World's Great Adventures." The adventure trips for 2-16 guests are active, ranging from leisurely cultural explorations and wildlife safaris to challenging trekking in remote regions ― with plenty of easy to moderate walking and sea kayaking in between.