Hiking Gear: Boots or Shoes?
New to hiking, or off on your first hiking vacation? If there is one thing that could hold you back when exploring the foothills of the Andes or walking the back roads of Bhutan, it's sore feet. So let's look at the options and finish with some foot care tips.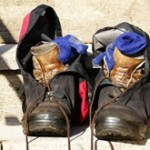 Boots or shoes?
Boots provide support to maintain the position and angle of your feet, and immobilize their lateral movement (stop them turning). So it's boots every time, then? Well, it depends on the ground. Paths and level ground can easily be covered wearing good walking shoes, which are lighter and take up less room when packed.

However, for me if there is only one choice, I would go for boots every time. Why take the chance? Ground is rarely level. And it's not until you feel your ankle slipping under you, will you thank taking your rock hoppers, over sneakers. Treks that seek out the unexpected, and push things a little further will always take you where you want to go: away from the crowds, and off the beaten track. So make sure your footwear can hack it. So in most cases: Boots.
Leather or Synthetic?
For many people, hiking boots are leather. They are worn, characterful, and very personal items of footwear. But leather is no longer the only option for hikers and trekkers, nor is it without fault.
Leather is heavy, it needs maintenance, it scuffs, and it looks a little dated when compared with more modern fabrics. So why? Well, once polished, it is waterproof. Perhaps not 21st technology waterproof, but definitely old-school mountain waterproof. Gore-Tex and similar fabrics claim to be totally repellent, and breathable. Maybe so, but they are not perhaps as "tough as old (leather) boots". In some footwear you'll now find both – often with the breathable membrane stitched in like a sock liner. I feel drawn to them. A leather and Gore-Tex combination – great for tough, wet conditions; just make sure your feet don't get too warm.
If your hiking takes you through tropical conditions, both could be given the boot. In the jungle, it is common practice to wear lightweight, quick drying boots – Jungle Boots. In this situation, it may be better to accept you can't possibly keep the water out, so it's better to have footwear that can dry easily.
When it comes to buying, always remember: Fit and Form.
FIT – take your time getting a pair that fit properly. Try them on in the afternoon with your feet at their largest, try them with your own socks, and test them in the shop for as long as possible – even get out onto the street for a bit. Remember: your feet will live inside these boots. Make sure your heels don't move and your toes do not press against the front.
FORM – the soles should be molded and ideally replaceable, the tongue should be one piece, the top eyelets should be 'd' rings (small metal rings, not holes in the leather) and you should like them too. There are lots of styles to choose from – they don't have to be plain or brown!
Don't buy leisure boots. Some popular urban fashions imitate hiking boots. While good on the street, they may not be built to last in the hills. But do consider the most modern evolution of hiking apparel, the adventure sneaker. Some manufacturers, who previously specialized in endurance running sneakers, have a few models worth a look.
Ok, now you have your boots, what about your feet? On footcare: Always wear clean, dry, moisture wicking socks where possible. If you suffer from blisters, wear two pairs of socks (a thin pair underneath thicker walking socks), air your feet, and as with your boots, keep them clean! And as soon as you feel a hot spot start to develop, stop and address the problem or a bad blister will form.
A walking, hiking, or trekking vacation can be one of life's great pleasures, and if you take care of your feet then you can count on them to take care of you.
About Boundless Journeys
Boundless Journeys is an award-winning small group adventure tour operator, selected as one of the "Best Adventure Travel Companies on Earth" by National Geographic ADVENTURE, February 2009; and a "World's Best" tour operator by Travel + Leisure, August 2009.
With a diverse collection of locally guided, small group itineraries and Private Collection trips around the world, Boundless Journeys offers "The World's Great Adventures." The adventure trips for 2-16 guests are active, ranging from leisurely cultural explorations and wildlife safaris to challenging trekking in remote regions ― with plenty of easy to moderate walking and sea kayaking in between.