What's happening in Tuscany?
With warmer weather upon its way, Europe is looking perfect for a hiking or walking tour.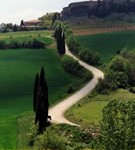 Spring is bringing Europe to life, especially in its more rural areas, such as the Italian region of Tuscany. Carpeted in vineyards and olive groves, the Tuscan countryside is dotted with medieval hill towns. Travel to Tuscany and it won't be long before you've got your boots on and are off exploring.
So what's happening in the region at the moment? Florence, the provincial capital is hosting 'Florence's Blue Night 2010', a 24hr showcase of European traditions. Classical concerts, performances, music and lectures are to be feature in some of the city's most prominent buildings. In the first half of May, museums across the region are to open to the public, and offer special guided tours and activities. The 'Museums as Friends' initiative is a great complement to a Tuscany walking tour – Tuscan trekking in the day and Renaissance culture in the evening.
The spectacular Maggio Musicale Fiorentino, a festival of opera and classical music, is perhaps the region's most significant cultural event. It runs all through May and into June. For fans of modern music there are regular performances at the Comunale Theatre, Florence. Canadian crooner Rufus Wainwright performs this month.
Antiques fans looking for a bargain could always try their luck at the regular markets. These run at weekends, in Lucca, Florence and Arezzo. Sports fans will soon pick up the local passion for soccer this month, as Fiorentina and Siena meet for passionate local competition.
So after a great day of hiking in Tuscany, you can expect wine, culture and music. Whether it's in the hilltop village of Spello, or the city of Assisi, there's always a cultural delight to conclude your walk.
About Boundless Journeys
Boundless Journeys is an award-winning small group adventure tour operator, selected as one of the "Best Adventure Travel Companies on Earth" by National Geographic ADVENTURE, February 2009; and a "World's Best" tour operator by Travel + Leisure, August 2009.
With a diverse collection of locally guided, small group itineraries and Private Collection trips around the world, Boundless Journeys offers "The World's Great Adventures." The adventure trips for 2-16 guests are active, ranging from leisurely cultural explorations and wildlife safaris to challenging trekking in remote regions ― with plenty of easy to moderate walking and sea kayaking in between.