Costa Rica Adventure Travel – Tales from the Trail
Deborah Tobey, on the research trail in Costa Rica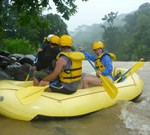 It took me a while to get to Rafiki, not because of the long dirt road that led to the property, but because I couldn't take enough photos along the way. The grand Savegre River flows right next to the road which is surrounded by lush tropical rainforest and stunning waterfalls. As I got closer to the resort a sign read, "This is where the bad road ends." Two seconds later, another sign, "And the good times begin." Yes, the road did get a little better, and more importantly, the good times began.
We arrived at dusk, greeted by Lautjie (pronounced "low key"), a wonderfully friendly man of South African descent whose family opened Rafiki six years ago. He runs the resort with his wife, Mauren. They live on the property along with their two beautiful children. Rafiki means "friend" in Swahili, and we were welcomed as such. Upon arrival, I stood on the balcony of the open air restaurant, and central gathering spot, and gazed at the landscape that enveloped us. It had been raining earlier that day and fog was settling in the trees. I was awed by the beauty of this region – just an hour and a half drive inland from Manuel Antonio.
Before dinner, we had time to get settled in our tents – think safari style above ground tents complete with ceiling fans and electricity. After a refreshing shower (not hot, but not cold either), we gathered for dinner. Our meal was served on a table adorned with fresh flowers and banana leaves. During dinner Lautjie came over to chat and to let us know about the time honored tradition of going down the water slide at night – if you dare. Well, that was all he had to say . . . after dinner with flashlights in hand, we climbed down to the waterslide. Flashlights went off and one by one we careened down the death-defying waterslide. Perhaps I am exaggerating a bit, as Lautjie said this slide is a favorite for children, but being the "middle-ager" that I am, it got my blood running.
After our thrilling ride we sat on the rocking chairs overlooking the now dark forest, drinking tea, and talking about life. Soon exhaustion overtook me and it was time for bed. It was probably minutes before I was fast asleep, only to be woken by a rainstorm, and the intermittent frog call. These frogs don't let out a gentle "ribbit", they emit a loud bellow. The next morning we began the day with mother nature beckoning – birds chirping, frogs calling, and the sun rising . . . no wake up call or alarm clock is needed here. After a cup of good coffee and breakfast we were ready for our adventure – a horseback ride to the start of a rafting trip down the Savegre River. As someone who has only been on a horse a few times, I was a little nervous to meet my transport. Fortunately, Gazelle could not have been more gentle.
As we began our ride, the skies opened up and it began to rain steadily. In the rainforest, as you might imagine, nothing gets cancelled due to rain. We carried on. Lautjie led us down the path introducing us to native plants, some edible, along the way. From time to time we would catch glimpses of the river flooded with rainwater, and hear the yelps of our soon to be river guide from down below. We made it to the put in and I was both apprehensive, and chomping at the bit, to get on the water. A river guide for many years myself, I had never seen so much water. Our guide Chukey, proved his prowess right away, as he professionally yelled out commands, "Thank you, thank you very much!" and steered us safely through wave after wave. Each wave barreled over the front of the boat, soaking us, and causing us to laugh and holler with excitement. We'd slap our oars together with a chorus of "Pura Vida!" after each set.
Although the river was currently the color of mud due to the recent start of the rainy season, it is usually a beautiful crystalline color of blue. The canyon walls on either side of us were bright green, and mountains hugged us from all sides. Not another boat in site, we had this insanely beautiful place all to ourselves. Along the way downriver we stopped for a walk to a waterfall, and for a delicious river lunch – homemade chicken, coleslaw, beans, tortillas, and cookies. At the completion of our trip, we celebrated with a cold cerveza.
The end of our river tour was also the end of our short stay at Rafiki. Although all good things must come to an end (so they say), I am looking forward to my next visit, and to introducing Boundless Journeys guests' to this magical place.
Boundless Journeys offers many Costa Rica Nature Tours, and Deborah is currently working on new itineraries that include time at Rafiki.
About Boundless Journeys
Boundless Journeys is an award-winning small group adventure tour operator, selected as one of the "Best Adventure Travel Companies on Earth" by National Geographic ADVENTURE; and a "World's Best" tour operator by Travel + Leisure.
With a diverse collection of locally guided, small group itineraries and Private Collection trips around the world, Boundless Journeys offers "The World's Great Adventures." The adventure trips for 2-16 guests are active, ranging from leisurely cultural explorations and wildlife safaris to challenging trekking in remote regions ― with plenty of easy to moderate walking and sea kayaking in between.