Italy: How to order that coffee
As travelers on a walking tour in Italy it's essential we make the effort to understand local customs, traditions and ways. Well, when ordering coffee it can be difficult to get what you want.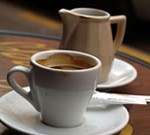 Ordering coffee used to be easy. But thanks to our love of coffee culture, things have become a little complicated of late: flat white, macchiato, skinny latte, espresso – the list is getting longer. Understandably proud of their coffee, the Italians have a real affinity for the black gold. And they make the most excellent coffee. However, again it's not always the easiest drink to order…
According to researchers, the average bar in Italy sells 230 cups per day, and the most popular type of coffee drink (60 per cent of that sold) is the espresso – which you will soon find is not called an espresso!
So, here's how to order a coffee in Italy. But first, three snippets of Italian coffee culture.

Cappuccino is commonly served at breakfast and before 11:00 am. But waiters are happy to serve regardless.
An Italian breakfast often consists of an espresso, or cappuccino, and a pastry.
Italians like to relax in a café around 5:00pm, enjoying a gelato (ice cream), tea, or cup of coffee.
What to order
Cappuccino is cappuccino
If you want an espresso ask for a caffè – "un caffè"
Double espresso: Just ask for a "doppio" (a double shot).
Macchiato: A double espresso with a drop of warm milk – a lovely compromise between the traditional short shot of coffee, and longer more social drinks.
Marocchino: A mini cappuccino (of sorts). It's a shot of coffee, as splash of milk and a sprinkle of chocolate/cacao powder.
Latte: Is a latte, but make sure you get coffee in the top – latte means steamed milk, so take care when ordering.
Americano: probably the default order as it's the closest you get to standard US coffee. It's a long drink, this time watered down espresso. Served with milk separately.
Perhaps the most interesting is the Corretto (corrected). It's a coffee that has been 'corrected' by having some alcohol added – and you get to choose your tipple.
Whichever way you have it, coffee – like wine – is an integral part of Italian gastronomy. So when you take a break from an Italy walking tour, take a moment to remember how to order, and then you'll be sure to enjoy some of the finest coffee in the world.

About Boundless Journeys
Boundless Journeys is an award-winning small group adventure tour operator, selected as one of the "Best Adventure Travel Companies on Earth" by National Geographic ADVENTURE; and a "World's Best" tour operator by Travel + Leisure.
With a diverse collection of locally guided, small group itineraries and Private Collection trips around the world, Boundless Journeys offers "The World's Great Adventures." The adventure trips for 2-16 guests are active, ranging from leisurely cultural explorations and wildlife safaris to challenging trekking in remote regions ― with plenty of easy to moderate walking and sea kayaking in between.