Destination spotlight: Mongolia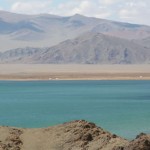 Each country's customs are different, just as each meadow's grass is different. – Mongolian proverb
Mongolia, one of the most sparsely populated countries on Earth, is inhabited by nomadic herders who consider their native landscape sacred. In much of the country, shopping malls are absent, power lines are scarce, and human habitation is likely to consist of a few nomad gers dwarfed by the landscape – a reminder of what the Great Plains of North America must have looked like 300 years ago.
On Boundless Journeys, Land of the Nomads tour, we explore the "Blue Pearl of Mongolia," Lake Hovsgol. One of the oldest, as well as most pristine lakes in the world, "Mother Sea," as nomads call it, contains 70% of Mongolia's and 1% of the world's freshwater. We hike around the lakeshore and surrounding mountains and meadows, visit local nomads' dwellings, sample Mongolian-style horseback riding, and learn how to set up a ger.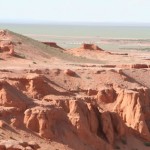 In diverse contrast, Boundless Journeys guests also visit the great Gobi Desert, located in the southernmost third of Mongolia. By Bacterium Camel and foot we explore towering sand dunes, "forests" of hardy saxaul, the surprisingly colorful desert flora, and the red sandstone spires of the Flaming Cliffs.
With the welcoming nature of the local people, and the wide open space of the land, you feel a sense of peace in what has been called the "last wilderness nation."

For more information on this journey please see our Mongolia: Land of the Nomads.
About Boundless Journeys
Boundless Journeys is an award-winning small group adventure tour operator. With a diverse collection of locally guided, small group itineraries and Private Collection trips around the world, Boundless Journeys offers "The World's Great Adventures." The adventure trips for 2-16 guests are active, ranging from leisurely cultural explorations and wildlife safaris to challenging trekking in remote regions ― with plenty of easy to moderate walking and sea kayaking in between.