Adventure Squared on the Tour du Mont Blanc
One Boundless Journeys Guest takes a challenging trip to the next level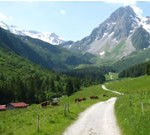 Here at Boundless Journeys we know that sometimes the best parts of travel are those that challenge us. Looking for some adventurous inspiration to set a goal for yourself this year? Then let us share this story with you.
In 2010, we received a great Trip Evaluation (as expected) from a single female traveler on our France, Italy, and Switzerland: Tour du Mont Blanc adventure. She loved the group dynamic, experienced local guide, and charming accommodations, but what really tickled her fancy was the challenges of the Mont Blanc Circuit. Fierce but forgiving, the terrain on this circumnavigational route presents a great daily mix of leisurely path walking, rocky fields, ascents and descents, and single track dirt trails. Every day feels as robust as three because the trails are so diverse, the cultures shift and shine, and the scenery just doesn't quit. This coupled with some challenging high passes and long days on the trail make it the soft-adventure's dream (no ice picks necessary).

We were of course then very excited to introduce the guest to some of our other adventures on the higher end of the difficulty spectrum (think trekking in Peru or Bhutan) – the quality of our tours is so consistent we were certain we could find another great match for this traveler. After some discussion, however, she decided to return to Mont Blanc in the summer of 2011 and experience the voyage for a second time!
We were thrilled – what better testament to an adventure than for someone to want to enjoy it again? She had an interesting query, however – she wanted to "run it." That's right, this fearless female wanted to run the entire Mont Blanc Circuit. This didn't end up being something we could easily accommodate due to the nature of our small-group tours, but she decided without question that scenery was more important than speed and came up with a compromise for her adventurous spirit. Her plans are to participate in Chamonix Half-Marathon the weekend before the tour, spend a few days relaxing, and then set out once again with Eric Thioliere and other Boundless Journeys guests to conquer Mont Blanc. If that doesn't get you motivated to join an active small group adventure, we don't know what will! And yes, we still have some spots left on our July and August France, Italy, and Switzerland: Tour du Mont Blanc departures if you want to experience what this guest was so truly inspired by.
About Boundless Journeys
Boundless Journeys is an award-winning small group adventure tour operator. With a diverse collection of locally guided, small group itineraries and Private Collection trips around the world, Boundless Journeys offers "The World's Great Adventures." The adventure trips for 2-16 guests are active, ranging from leisurely cultural explorations and wildlife safaris to challenging trekking in remote regions ― with plenty of easy to moderate walking and sea kayaking in between.