Exploring Vietnamese Cuisine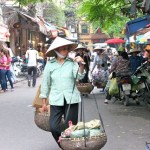 My Vietnamese guide Su Xuan lead me through the narrow alleyways of the Old quarter of Hanoi, pointing out the astonishing variety of street food delicacies from vendors' stalls spilling out onto the pavement. A blend of sweet, sour, and savory aromas overwhelmed me just as much as the need to be vigilant as we maneuvered through the congested street maze, along with motorbikes, bicycles, pedestrians, and cyclos. The street food scene in Old Hanoi was just the beginning. Before arriving in Vietnam, I had heard that Vietnamese cuisine was something to write home about. So what better way to get to know the culture, than to experiment with the local food? And this was truly as local as you could get.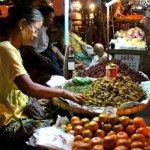 Su Xuan pointed to tropical fruits such as guavas, lychees, passion fruit, and jackfruit, as well as to exotic items like banana blossoms and lotus flower stems used in fresh green papaya salads. Colorful herbs and spices such as tamarind, local chilies, mustard, and lemongrass spread out in woven baskets on the ground, next to piles of homemade rice cakes, fresh spring rolls, and Banh xeo, crispy pork and shrimp pancakes. We continued past barbeque stalls spinning out skewers of chicken, pork, and freshly caught fish to queues of locals eyeing these tasty snacks. Despite some unsavory items catching my eye, I was building up the courage to experiment as my appetite set in. Su Xuan grabbed my hand and swiftly pulled me off the street and through a low doorway, motioning for me to follow her up a somewhat drab-looking stairway. The carved wooden sign outside read Cha Ca, which I recognized as a provincial dish of Hanoi, one I had been told I must try.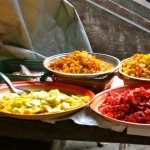 We ducked into the crowded restaurant and sat at low-lying tables, next to many other locals who had recently poured in for their lunch break. There is no menu at Cha Ca, as there is only one dish. Soon enough our server brought out a sizzling fry pan of onions and chile in oil and set it on the table over a small propane burner, along with a side bowl of a mix of fresh greens and herbs, several chile-fish dipping sauces and a bowl of thin rice noodles. Several minutes later, the fresh fish came out and was thrown into the pan, along with a handful of the herbs. Before I knew it, Su Xaun was using her chopsticks to dip the lightly fried fish and greens in the side sauces and mixing it with the rice noodles. I eagerly followed suit.
It was culinary experiences such as this day in Hanoi which provided me with insights into the daily life of locals during my recent journey to Vietnam. I found myself relishing in the regional differences in Vietnamese cuisine as I traveled the breadth of the country from north to south. Every steaming bowl of Pho, fresh rice paper spring roll, sweet and juicy tropical fruit, and tasty cup of Vietnamese coffee truly brought me closer to understanding the culture.
Interested in learning more about travel to Vietnam with Boundless Journeys? Please contact me at Ashley@www.boundlessjourneys.com, or call 1-800-941-8010. I'd love to hear from you!
About Boundless Journeys Boundless Journeys is an award-winning small group adventure tour operator. With a diverse collection of locally guided, small group itineraries and Private Collection trips around the world, Boundless Journeys offers "The World's Great Adventures." The adventure trips for 2-16 guests are active, ranging from leisurely cultural explorations and wildlife safaris to challenging trekking ― with plenty of easy to moderate walking and sea kayaking in between.