New Project Lends A Hand to Aspiring Travelers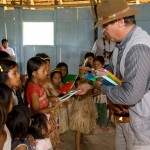 Hello fellow travelers! I'm excited to be the newest member of the Boundless Journeys team, and I look forward to helping you plan your next dream trip. One of the many things that drew me to Boundless Journeys is their commitment to giving back to the places where they operate—whether making a conscious effort to lighten their travel footprint, bringing supplies to children in remote rural areas, or choosing sustainably minded local partners and hotels.
Recently, an NBC Nightly News "Making a Difference" report profiled a group of photographers that are also giving back in a way that has wider implications for the travel community at large. The project, called Virtual Photo Walks, uses new technology to help the disabled, elderly, and hospitalized experience some of the world's most far-flung treasures. The premise is simple. Local photographers, armed with their cameras and an attached smart phone, use the Google+ "Hangout" feature (which allows multiple people to video chat simultaneously) to take groups of homebound residents from across the globe along with them on a shoot, experiencing what they do in real time—whether scouting for elephants on an African safari, or strolling a Hawaiian beach at sunset.

The story featured Monica Malone, a young woman with Lupus who dreams of walking the streets of Rome, but whose intense daily pain makes just climbing the flight of stairs to her apartment difficult. Virtual Photo Walks gave Malone the opportunity to finally see the city, and even offered her a glimpse of the Coliseum at night. "I thought, wow. If I could only have a cup of cappuccino, I'd feel like I was there," she says in the piece.
Founded by photographer John Butterill, Virtual Photo Walks was created to offer the less fortunate the same ability to see the world that most of us take for granted. Although the project currently uses locally based photographers as volunteers, the idea holds real promise for travelers looking to give something back on their next trip. Would it be possible, for instance, to arrange a Google+ Hangout with homebound residents in your own community on that big trek up Machu Picchu, or hiking through Iceland? The need has always been great, and now the technology is available. After all, travel is a gift, and it's worth sharing.
If you're interested in learning more or making a donation to Virtual Photo Walks, visit: virtualphotowalks.org.
About Boundless Journeys Boundless Journeys is an award-winning small group adventure tour operator. With a diverse collection of locally guided, small group itineraries and Private Collection trips around the world, Boundless Journeys offers "The World's Great Adventures." The adventure trips for 2-16 guests are active, ranging from leisurely cultural explorations and wildlife safaris to challenging trekking ― with plenty of easy to moderate walking and sea kayaking in between.