Five "Crown Jewel" Wildlife Sightings
Wildlife viewing is a cornerstone of the Boundless Journeys experience and just one of the many reasons to get off the tourist track and out into the wilderness on a naturalist-led walk or hike. Whether or not animals are the primary focus of your trip (if you're on safari, for example) most of our guests return home with at least one unexpected sighting, and while all of these are special in their own right, a handful of our tours offer the chance to see some truly rare and impressive species in their natural habitats, giving guests a moment they may never experience again. Here are five "crown jewel" animal sightings and the trips where—if luck is with you—you may even be fortunate enough to find them.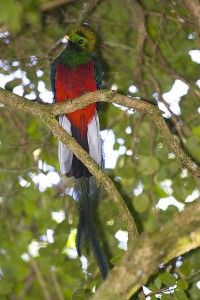 Resplendent Quetzal: Since Mayan times, the Resplendent Quetzal bird has been an object of reverence and myth in the cloud forests of Central America. The bird's striking emerald and ruby coloring and its tendency to kill itself when captured has made it a symbol of freedom since the era of the Spanish Conquest.
Where to Spot It: Day 5 of our Costa Rica: Nature's Richness Revealed trip, on a naturalist-led hike through the Monteverde Cloud Forest Reserve.
Lowland Tapir: In some ways, the Lowland Tapir resembles a horse, with its pony-like size, stiff mane, and galloping gait. Yet tapirs are unique in their shy, solitary nature, their a prehensile snout (used for seeking out leaves and fruit), and their strong swimming ability, which they often utilize to cross rivers while evading predators.
Where to Spot It: Inkaterra's Reserva Amazónica on our Peru: Into the Amazon trip extension, where the lodge feeds a group of "resident" tapirs who typically arrive each day in search of snacks.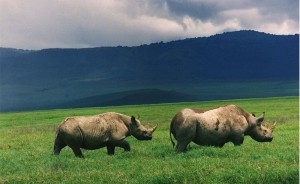 Black Rhino: This two-horned species' forehead protuberances are thought to have magical and medicinal properties in countries like China, Taiwan, and Singapore, resulting in aggressive poaching that has brought them to near-extinction. These solitary mammals reproduce every two and a half to five years, and have a single calf which remains with its mother until it's three.
Where to Spot It: Black Rhino have recently been reintroduced at Wilderness Safaris' Mombo Camp, the number one property on Travel + Leisure's 2013 World's Best List, and a guest favorite on Boundless Journeys' Custom Safaris to Botswana's Okavango Delta.
Snow Leopard: It's estimated there are between 3,500 and 7,000 snow leopards left in the wild, but their elusive nature and the harsh, high-altitude ecosystem they inhabit makes the actual number difficult to determine. These Himalayan cats are active at dawn and dusk, when they hunt for Blue sheep and Ibex, a species of wild goat.
Where to Spot It: Days 5 through 8 of Boundless Journeys' Chomolhari Trek in Bhutan, while the group makes its way through Jigme Dorji National Park in the country's northwest.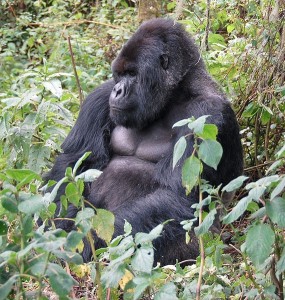 Mountain Gorilla: Humans and Mountain Gorillas are 98% genetically identical, yet fewer than 900 of these close cousins still exist in the wild today. Groups of up to 40 gorillas are led by a dominant male Silverback, who is almost 10 times stronger than the biggest American football players and can weight up to 400 lbs.
Where to Spot It: On a trek through the Bwindi Impenetrable Forest on Boundless Journeys' Uganda: Bwindi Gorilla Tracking Private Collection Safari.
About Boundless Journeys Boundless Journeys is an award-winning small group adventure tour operator. With a diverse collection of locally guided, small-group itineraries and Private Collection trips around the world, Boundless Journeys offers "The World's Great Adventures." The adventure trips for 2-16 guests are active, ranging from leisurely cultural explorations and wildlife safaris to challenging trekking ― with plenty of easy to moderate walking and sea kayaking in between.