Gear Guide: Hiking Boots, Trail Shoes, or Trail Sandals?
Ever hear that an extra pound on your feet is equivalent to five pounds on your back? Whether or not that oft-quoted piece of backcountry wisdom is right, one thing is definitely true: Hiking requires less effort in lightweight footwear. Therein lies the temptation to wear hiking shoes, or even a sturdy pair of sandals, instead of heavier boots. But is it really safe to do so?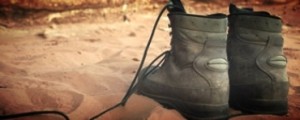 Protecting your feet is a top priority when hiking. The right footwear will carry you far, fast and comfortably. Shoes should be as light and well-fitting as possible for the type of hiking you're doing, while keeping your feet dry, warm, and well-protected.

If you are hiking in a dry climate on well-established paths that don't have a lot of rocks, a pair of hiking shoes may be just what you need. High-quality trail shoes are ideal for one-hour to one-day hikes while carrying a light day pack. If you are joining Boundless Journeys in Myanmar, Vietnam, Costa Rica, or Italy, this might be a good option.
If you are going to encounter steeper inclines and muddy paths, however, or plan to stay out three days to a week, you will need a pair of sturdy, waterproof hiking boots. These will provide added stability and ankle protection against protruding limbs and rocks—though they won't necessarily keep you from rolling your ankle. Trekking poles are often a better defense against such injuries. A sturdy hiking boot is recommended if you are joining a Boundless Journeys tour in Bhutan, Peru, Spain, Scotland, Slovenia, or on any of our tours with sustained hikes, such as the Tour du Mont Blanc or the Haute Route.
Remember to give yourself a few days to break in new boots. While modern mid-weight boots take significantly less time to break-in than their 30-year-old, all-leather predecessors, you should still dedicate a minimum of three to four days to break in new hikers.
It may come as a bit of a surprise, but hiking sandals can also be a great option for the casual hiker. Sandals are super light, which means you aren't going to expend as much energy moving your feet over the course of the hike. They are also perfect for water crossings, or as foot-liberating camp shoes; many people prefer a sandal with some kind of toe guard to help protect against rocks and roots. Hiking sandals are best used for short, well-maintained trails, or as a backup when your primary boots are temporarily out of commission. You could probably get away with a sturdy hiking sandal—such as those made by Keen—on Boundless Journeys tours to the Galapagos Islands and Palau.
If you have any questions about which type of footwear is best for your tour, give us a call. Our trip specialists can share the knowledge they have gained from first-hand experience on the trail. And remember, your feet are often your main vehicle on a Boundless Journeys tour! They will take you to some of the most amazing places in the world, so treat them accordingly.
About Boundless Journeys Boundless Journeys is an award-winning small group adventure tour operator. With a diverse collection of locally guided, small-group itineraries and Private Collection trips around the world, Boundless Journeys offers "The World's Great Adventures." The adventure trips for 2-16 guests are active, ranging from leisurely cultural explorations and wildlife safaris to challenging trekking ― with plenty of easy to moderate walking and sea kayaking in between.