Giving Alms Respectfully While in Laos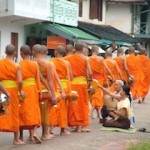 It's a picture postcard sight: a long line of orange-clad monks proceeding down a main street collecting alms from the town's Buddhist faithful. Increasingly, tourists are flocking to witness the spectacle in Luang Prabang.
Follow these simple guidelines to help keep your experience as unobtrusive to others as possible. This will help keep the alms ritual a beautiful sight for fellow travelers to see as well:
1. Participate only if it is truly meaningful for you. Don't just go through the motions.
2. If you are not participating, keep your distance and stay out of the way of the locals and the monks.

3. Don't use a camera flash, and don't get close to the line of monks. This is distracting to the monks, who are performing a walking meditation.
4. If you are giving alms, don't position yourself higher than the monks. It's a sign of diminished respect.
5. Don't touch the monks or make eye contact.
6. Do remain silent.
7. Street vendors, sadly, contribute to an inappropriate marketplace atmosphere. Don't buy anything from them. If you need to give alms, our guide will assist you with preparations beforehand.
8. Most importantly, this is a living tradition that you are lucky to witness. If you treat it only as a photo-op, it will lose its significance show future generations.
So if you don't mind rising early, please do come and witness this moving scene typical of old Laos – but please do so respectfully.
About Boundless Journeys
Boundless Journeys is an award-winning small group adventure tour operator. With a diverse collection of locally guided, small group itineraries and Private Collection trips around the world, Boundless Journeys offers "The World's Great Adventures." The adventure trips for 2-16 guests are active, ranging from leisurely cultural explorations and wildlife safaris to challenging trekking ― with plenty of easy to moderate walking and sea kayaking in between.