How to Take a Japanese Bath, or Onsen Etiquette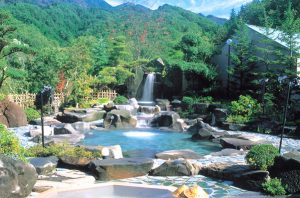 An onsen is a hot spring, and the Japanese love soaking in them. The Japanese archipelago sits at the convergence of four tectonic plates, making it an incredible location for geothermal activity. There are more than 25,000 natural hot springs in the country and around 3,000 spas where people can have a traditional onsen experience. It's a relaxing cultural habit—with proven health benefits—so of course we include this opportunity in our Japan itinerary. And as the Japanese love ceremonies, enjoying an onsen comes with its own rituals and etiquette that are important to understand and respect before taking part.
1. First, make sure to go to the correct changing room. There may not be signs in English, so red curtains are for women, and blue curtains are for men.
2. Remove your shoes if the changing room has tatami mats. It's a faux-pas to walk with shoes on these traditional and delicate Japanese floors.
3. Get into your birthday suit. Yes, that's right, no swim suits or coverings are allowed. The goal is to keep the water as clean as possible, so the only thing you can bring in is a small wash cloth. Don't worry, there are separate onsens for men and women!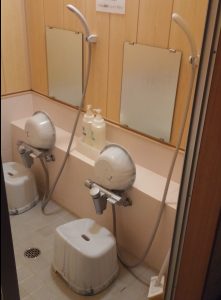 4. Wash before entering the onsen. Again, you want to keep the mineral springs clean. There will be a shower or wash basins and soap available.
5. If you have long hair, put it up.
6. Once in the water, place the towel on your head. Again, in an effort to keep the water clean, towels should not touch the water. You can leave them on the side, but you'll see the Japanese with them on their head. Try to keep it dry because it's nice to dry yourself a bit before re-entering the changing room, so you're not dripping water all over the place.
7. No photos allowed. This may be obvious, but people usually don't want their photo taken when they are nude, so don't do it.
Interesting fact: If you have tattoos, check the tattoo policy at the onsen. In Japan, tattoos are stigmatized and associated with gang and Yakuza (Japanese mafia) membership. Many onsens do not allow people with tattoos to enter.
That's all there is to it. Not too hard, and if you're not sure about something, observe what others are doing and follow suit. We're sure you'll feel relaxed and rejuvenated from the soak—at the very least, your skin will feel amazing!