Inspired Travel: Giving Back to An Elephant Camp in Myanmar
Every so often, I am touched by our guests' motivation to give back in a positive way to the places they have visited with Boundless Journeys. Recently, a guest traveling with us to Myanmar reached out to me to see how she could contribute to the Green Hill Valley Elephant Camp (GHV), a place we visit as a part of our Ancient Passages journey. Having discovered GHV on a scouting trip for Boundless Journeys a couple of years ago, I knew immediately that an excursion there was a must-see for our guests.
GHV was founded by a young couple, Htun and Maw, to promote eco-tourism "Focused on protecting the local ecology, elephants and traditions of the local people." During my initial visit, I spoke with Maw over a delicious Burmese lunch prepared by her husband, Htun, and was inspired to hear their story about the enduring effort to transform a region where elephants are used as part of the logging industry into their vision for the GHV. Not only is their aim to preserve Mahout (elephant caretaker) traditions, but also to ensure the protection of the land and livelihood of the surrounding hill tribe area. I connected naturally with Htun and Maw, as they had both previously worked as trekking guides for many years, and were familiar with the tourist industry in Myanmar—a country on the brink of opening up to the world. I left after this first visit captivated by the work of the GHV, and excited to offer an off-the-beaten-path experience on our tours.
The trekking excursion to GHV we offer now as a part of our itinerary is often a highlight for travelers, leaving them feeling inspired to make a contribution. It has been a pleasure to work with one of our recent guests to help facilitate her idea to raise donations from family and friends back home for the GHV, which is currently in need of support for its elephants' medication and supplemental diets for their nutrition. The organization has established a small clinic for the elephants, staffed by a veterinarian, and also requires assistance for its forest recovery and re-plantation initiatives, as well as a program to support Mahout families by providing educational, housing and employment opportunities.
Many thanks to our guests for your creative ideas on how we can all make a difference as world travelers!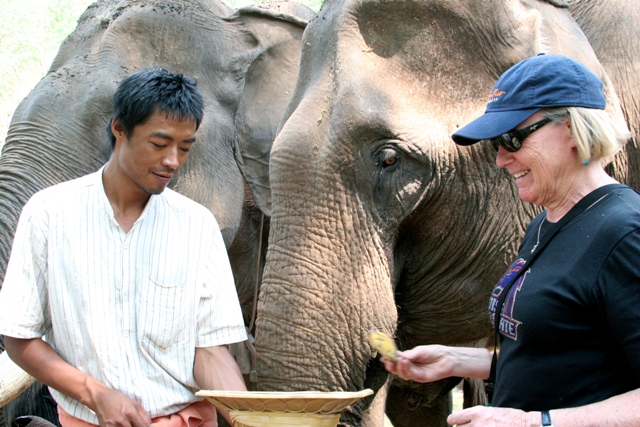 If you would like to learn more about Green Hill Valley, please visit: www.ghvelephant.com, or if you would like to join us in Myanmar in 2014, email [email protected], or call 1-800-941-8010 with questions and to receive a detailed itinerary.
About Boundless Journeys Boundless Journeys is an award-winning small group adventure tour operator. With a diverse collection of locally guided, small-group itineraries and Private Collection trips around the world, Boundless Journeys offers "The World's Great Adventures." The adventure trips for 2-16 guests are active, ranging from leisurely cultural explorations and wildlife safaris to challenging trekking ― with plenty of easy to moderate walking and sea kayaking in between.