NEW GORILLA TREKKING OPPORTUNITY TO OPEN IN REPUBLIC OF CONGO (BRAZZAVILLE)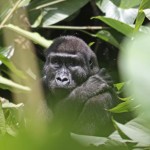 For those of you who have explored parts of southern Africa with Boundless Journeys and our local partner, Wilderness Safaris, you know that Wilderness offers exceptional, conscientious wildlife experiences in some of Africa's most pristine areas. We are very excited to let you know about a new safari opportunity that will be available beginning in May 2012: an eco-project in the Republic of Congo (Brazzaville) with the aim of introducing guests to tracking of the Western Lowland Gorilla from two new, low-impact camps in and near the Odzala-Kokoua National Park. In addition to lowland gorillas, guests will also be able to discover forest elephant, forest buffalo, bongo, sitatunga, red river hog, slender snouted crocodiles and other primate species, to name but a few…

For those who have considered gorilla trekking in Rwanda or Uganda, consider the following:
No permits will be required to visit the gorillas; this allows you much more flexibility in terms of dates. If the camp is available, you are guaranteed to have the opportunity to see the gorillas.
The camp will have exclusive viewing of six groups of habituated gorillas in a 5km by 5km area of the rainforest.
Although still physically demanding, the altitude is low and the terrain is not as mountainous.
The park is home to primates other than gorillas, allowing for a more diverse primate experience.
Navigable river systems meander through the rainforest, allowing for easy wildlife viewing from the water.
More information on the camps, pricing, and itineraries will be available in the coming weeks. If you would like to stay updated on this amazing new opportunity, and if you would like to be one of the first travelers to visit the Western lowland gorillas of Odzala-Kokoua National Park, let us know and we'll keep you in the loop. In the meantime, you can find preliminary details at www.odzala-kokoua.com.