On the Trail: Kayaking & Snorkeling in Palau
Photos I had seen of Palau made it appear far too beautiful and exotic to be an actual place on this Earth. Images of the oddly shaped Rock Islands blanketed in jungle vegetation protruding out of the blue-green sea seem otherworldly. But I was about to find out if this intriguing Micronesian archipelago was indeed the "end of the rainbow" as I joined our November Palau departure…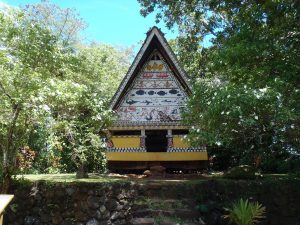 DAY 1
The first full day of our Palauan journey was just a taste of what awaited us for the next few days. The Palau National Aquarium was a good, brief introduction to the coral and marine creatures we would be seeing out on the islands. After our delicious Palauan lunch of fresh fish and tropical fruits, we hiked through the jungle to a secluded waterfall where we enjoyed a dip in the cool, clear water. The group learned a bit about Palauan culture and customs when we visited a traditional bai, or Palauan meeting house. Then it was back to the hotel for dinner where we discussed the details of our upcoming adventure!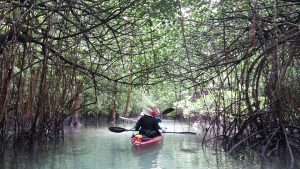 DAYS 2 & 3
Before we went anywhere, we began with a brief kayak lesson and safety overview. Our kayaks were surprisingly stable and relatively easy in which to get in and out. We went to some incredible places: Disney Lake, which we entered by snorkeling through a small marine tunnel, an old WWII Japanese fort in the jungle, Baby Reef Shark Bay in the mangroves, and Shipwreck Bay, paddling above sunken Japanese war machinery. We came across beautiful coral, blue starfish, sea cucumbers, sea anemones, non-stinging jellyfish, giant clams, and bright yellow cuttlefish!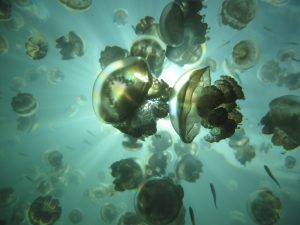 DAYS 4 & 5
After so much snorkeling the previous days, we graduated to some less secluded coves and bays, and more outer reefs with bigger, different species of fish. We visited the Zero Plane Wreck site, another hauntingly beautiful example of WWII history in Palau, and at the Milky Way Lagoon, we slathered on some of the limestone mud that, due to the tides, does not become swept out to sea but instead collects at the bottom of this sheltered lagoon. Snorkeling at the cleverly named Einstein's Wall, we saw a plethora of brain coral, and then we swam among non-stinging jellyfish at Secret Lake.
These past few days our expert guide Mac has impressed us with his keen eyesight and encyclopedic knowledge of every species of coral and fish we've spotted. This has been essential to what is already an incredible experience!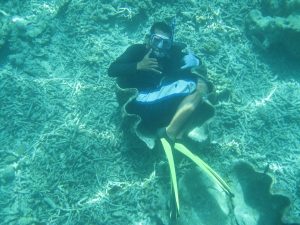 DAY 6
The larger variety of fish and other types of marine life we saw today fascinated the entire group as we let the current gently take us along the outer reef coral walls. While kayaking later, we saw a Feather Tail Ray and some very unique upside down jellyfish. Our last spot before heading to our new beach campsite was Giant Clam Cove. These massive clams of all different colors were truly an amazing site to see!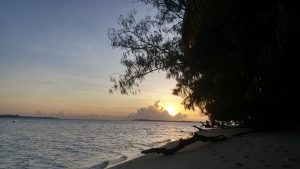 DAY 7
We continued exploring the outer reefs today. Once more, Mac was key to our enjoyment, provided the names and interesting facts about everything we saw. Although occasionally seeing reef sharks and sea turtles while snorkeling during the previous days, the number of sharks and sea turtles we saw at such a close distance today was absolutely incredible. I had always assumed that one needed to scuba dive to see such fascinating sea creatures in their natural habitat, but today's snorkeling experience proved me wrong. It was certainly an outstanding day in paradise!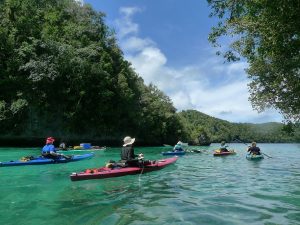 DAY 8
On the final full day of the tour, our luck with the weather ran out as we paddled in the rain and choppy water. But the bad weather didn't dampen our spirits as we set out to learn more about the history of Palau. We kayaked to one island that contained some fascinating artifacts from Palau's nearest island neighbor, Yap. Mac told us how the Yapese traveled to Palau to create large limestone disks, which the Yapese used as their form of currency. On the island of Ulong, we visited the ruins of an abandoned village and some ancient cave paintings. After lunch, we made our way to a secluded cove to see some very special creatures we hadn't yet encountered—seahorses!
Seeing seahorses in the wild was the perfect ending to a phenomenal journey. My exploration of the gorgeous Rock Islands and their impressive display of marine life were unlike anything I've ever experienced in my travels. And our fun, adventurous group and knowledgeable guide made each snorkel and paddle an unforgettable adventure. I left Palau with and a sense that I had indeed discovered paradise.