Tales from the Trail – Italy: Ancient Sicily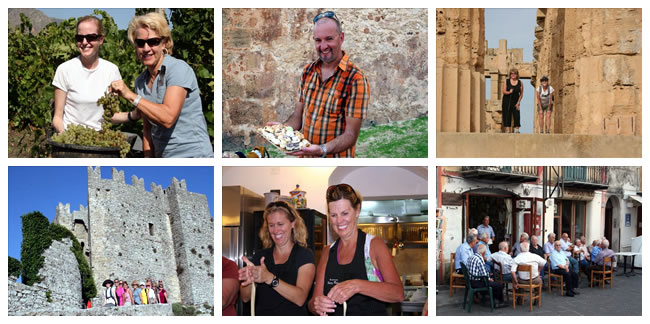 Ahhhh . . . Sicily. I had the pleasure of joining a Boundless Journeys tour to Sicily just a couple of weeks ago. Truly unforgettable moments are now ingrained on my mind as I dream of the incredible pastries we enjoyed, the immense archeological sites we visited, the countryside walks with breathtaking views of the sea, and the palpable energy of the local people.

We were picked up in the busy city of Palermo and began our drive through the Iato Valley. Along the way we had our very first of many Sicilian cappacinos and cannoli. I cannot explain to you the sweetness or richness of these cannoli, made fresh that morning, but my mouth still waters when I think of them.
Our morning walk led us to ancient ruins which do not exist on typical itineraries. We stumbled upon them up on a mountain top and had the entire place to ourselves. Here time seemed to have stopped at a certain moment in the past, enabling us to imagine those who found their home here thousands of years ago.
From here we continued to the town of Erice, with charming old stone streets and medieval churches. Standing atop a mountain (around 750 meters above sea level), overlooking nearby Trapani and the beaches of San Vito Lo Capo, Erice is almost always shrouded in fog. Today, we were lucky, blue skies prevailed. This evening we were treated to a very special aperitif and dinner at our boutique hotel in the center of town.
Our walk on Day 2 took us to the Mount Cofano Reserve. We walked up and over the saddle of Mount Cofano. As we descended, incredible views of an ancient tuna factory and the Mediterranean Sea came into view. Upon reaching the water we dipped our feet into the sea and enjoyed Italian pastries made with sweet almond paste.
This afternoon we visited the Archeological Park of Segesta. Here we sat in the remains of a majestic amphitheater while two Boundless Journeys guests spontaneously performed for us. Imagining we were one of the 4,000 spectators who sat here in ancient days, we applauded their efforts, while taking in the breathtaking panorama of the sea. Later we returned to our hotel in time to take a swim in the infinity pool, overlooking miles of vineyards, before continuing on to our beachfront seafood restaurant for dinner.
Day 3 brought a beautiful walk through the region surrounding the village of Caltabellotta. As we strolled through the countryside we tasted figs, quince, almonds, and walnuts found along the trail. We arrived at our lunch spot in time to help the cook make pasta for our lunch. While he put the finishing touches on our meal, we had the pleasure of dipping our feet in the on-site pool, while enjoying figs and grapes with a fresh glass of Prosecco. Lunch was an event with fresh pasta and sausage, followed by a tower of cannoli accented with bitter orange peel. Afterwards, we returned to our hotel for some rest and relaxation before joining the owner of our hotel for a cooking class. We learned how to make caponata, along with breaded veal, and panella (fried chick pea bread). Afterwards we enjoyed a wine tasting dinner at our hotel, La Foresteria, one of the largest wine producers in Sicily.
The following day we explored the Archeological Park of Selinunte. At 1700 square meters, it is the largest archeological park in Europe. After only two hundred years of history, the remains of the city are still an imposing presence.
This evening we visited perhaps my favorite town on the tour, Castelbuono. Here we were immersed in the local experience. Groups of Italian men were seated outside of their "clubs", and women looked down from windows above. Many people were at Mass and groups of teenagers hung out on the church steps. There appeared to be no other visitors than ourselves. After a refreshing drink in the center of town, we enjoyed pizza at a local restaurant.
Day 5 brought us to the interior Madonie Mountains, where we enjoyed a hike to a mountain top with sweeping views of Castelbuono and the valley below. Afterwards, we enjoyed a tour of the winery at our hotel. We were also enthralled by our guide, Gianni, who played the flute for us in a small church. Listening to our geologist guide playing Ava Maria on the flute was an enlightening experience.
The next day we explored Cefalù, a lively town on the Tyrrhenian Sea. We enjoyed lunch at a waterfront restaurant. Homemade gelato was the perfect compliment to the large antipasta salads we enjoyed.
Our final day in Sicily was no less incredible than all the others. We hiked through lava fields and immense forests on Mt. Etna. Our guide, with a bottle of wine in his pack, carried a picnic for us to enjoy along the way. Dinner this evening was exquisitely served to us on a rooftop overlooking the town of Taormina – a perfect conclusion to our Italian experience.
Perhaps because it is an island, or perhaps because Sicilian's consider themselves impregnable to outsiders, Sicily is an experience unlike any other I have had in Italy. From flamboyant cathedrals, to immense Greek temples, to ancient lava flows, and sweet pastries, the past is present in the smallest details. As J.W. Goethe wrote in Journey to Italy, "To have seen Italy without having seen Sicily is to have not seen Italy at all, for Sicily is the clue to everything."