Top 10 Things to Do in Scotland's Orkney Isles
With spellbinding natural beauty and invigorating landscapes the Orkney Isles are like no other archipelago. See what all the fuss is about for yourself on our Scotland hiking tour.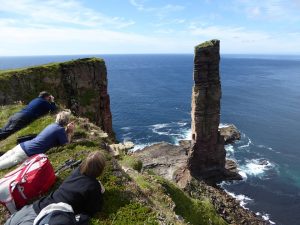 1. Go Island Hopping
Orkney is an archipelago of over 70 islands but only 20 of those are inhabited. The majority of the total population (21,000) live on the Orkney Mainland, and some islands only have 3 or 4 inhabitants. There are so many islands to explore so here are just a couple for starters:
Spend some time in Burray, population 350, for amazing views over Orkney's most famous water body Scapa Flow. Take your binoculars— you may spot seals, otters, or birds.
The island of Hoy is home to the gob-smacking Old Man of Hoy. The 450ft sea-stack was created through erosion—battered by the elements—and stands dramatically apart from an incredibly high cliff-face. It's also a great place to spot puffins from May to July.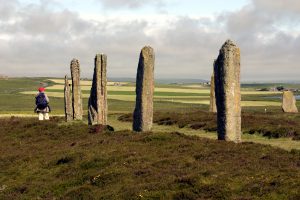 2. Stumble Across Ancient History
On Orkney you'll literally stumble across thousands of years of history. Neolithic, Pictish, Viking—you name it, you'll find it on Orkney. Discoveries at the Ness of Brodgar have given historians food for thought about life 5,000 years ago, and some archaeologists call the findings here more significant than Stonehenge in England. In fact, the Ring of Brodgar, Orkney's standing stones, were built centuries before Stonehenge in around 3200BC.
The Neolithic wonders continue at the UNESCO World Heritage site of Skara Brae, a stone-age village that was first discovered after a great storm in 1850 stripped away the thin topsoil and exposed the stone structures.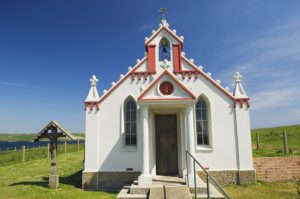 3. See Wartime Relics
The Churchill Barriers were originally built as naval defenses to stop enemy ships and submarines during World War Two and are so named for Britain's wartime Prime Minister. These four causeways now connect some of Orkney's islands by road.
The Italian Chapel or La Bella Cappella Italiana was built by Italian prisoners of war. The POWs, captured in North Africa, were shipped to Orkney in 1942 to build the Churchill Barriers. The prisoners were given two old Nissen huts, half-cylindrical buildings covered in corrugated iron, as a place of worship. Through sheer determination and imagination they transformed these shabby huts into a beautifully ornate chapel.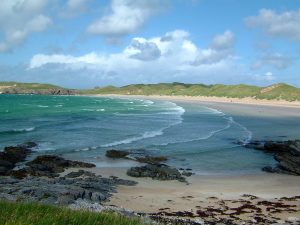 4. Get some Peace at the Beach
Rackwick Bay, with its crescent beach, has a haunting peacefulness that has inspired many artists, writers, and composers. From the Old Man of Hoy, your first glimpse from the footpath is nothing short of stunning. Large rollers sweep in to meet pink sands and huge boulders. Many claim this as the most beautiful location in Orkney.
5. Visit First Rate Museums
Orcadians are very enthusiastic custodians of their history. On Burray you'll find the Fossil and Heritage Centre, and on Hoy, the Scapa Flow Visitors Centre and Museum. On the site of an old naval base you can watch audio-visual displays about Scapa Flow's role in wartime triumphs and disasters.
6. Enjoy Some Local Produce
Orkney is a green and fertile land and the local produce doesn't disappoint. Expect to leave the island a wee bit rounder than you started. Perhaps you'll begin with some succulent and super-fresh hand-dived scallops. Then to follow, maybe prime Orkney beef—grass-fed for tasty cuts. To finish, you may indulge in some Orkney fudge, ice cream, or munch on some delicious Westray shortbread.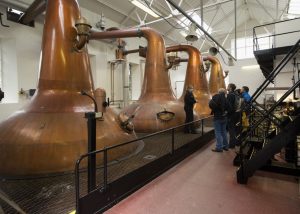 7. Try a Local Tipple
If you want to stay close to Orkney's historic past then whisky's the tipple for you. Visit Scapa Distillery, one of the last manually-operated distilleries and try their distinctively smooth single malt.
If whisky's not your drink, try one of Orkney Gin's seasonal gins and taste the earthy essence of the islands. The botanicals they use along with their artisanal method of blending means no two batches are exactly the same.
If you'd rather have a beer you are in luck, the Orkney Brewery creates a whole host of traditional craft ales. And the secret ingredient? Well, that would be the pure Orcadian water.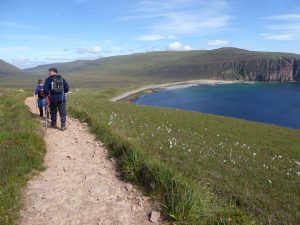 8. Enjoy Really Amazing Hikes
With dramatic coasts and sweeping views of some of Britain's highest and most spectacular cliffs, hiking in Orkney is an unforgettable experience. Make sure to bring layers and rain gear. The weather can change at a moment's notice. In addition, the lack of trees on these windswept islands allows uninterrupted views over fields, farms, beaches, the ocean, and even to other nearby islands when the weather is clear. It's highly likely you'll have the trails mostly to yourself as Orkney is off the radar for most people.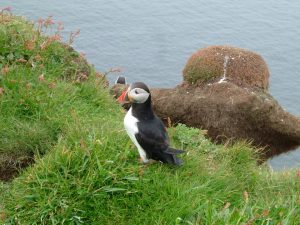 9. Go Bird-Spotting
The RSPB has 13 nature reserves across the Orkney Isles looking after habitats such as seacliffs, farmland, wetland, and moorland. Whether you want to catch a glimpse of the puffins nestling on the seacliffs or chase after the elusive call of the corncrake, there's something for bird-spotters year-round. Have your binoculars ready!
10. Talk with Friendly Orcadians
Orcadians are some of the friendliest people you'll encounter. Living in such a small community, everyone knows everyone, and they welcome new faces! From your inn-keeper to the staff at Skara Brae, you'll find them all ready with a warm smile and happy to speak a wee bit slower for those unaccustomed to the Scottish brogue.