Which African Safari Destination is Right for You?
Having just returned from a fabulous, elephant-focused Zimbabwe safari, I was reminded (as I always am in Africa) that the African continent is incredibly diverse in landscapes and ecosystems, cultures, and wildlife. You could spend years exploring every remote corner and vibrant capital—and many people have: "Dr. Livingstone, I presume?" However, with regard to wildlife safaris, southern and eastern Africa are the best regions to explore. But even that doesn't narrow it down very much.
We offer traditional photographic, wildlife safaris in 7 regions—Kenya, Tanzania, Zambia, Botswana, Namibia, South Africa, and Zimbabwe—plus a gorilla safari in Rwanda. So how does one decide? We created a handy flow chart to help you. Of course, any safari will be a trip of a lifetime—you can't really make a wrong choice. And I'm always happy to chat about Africa—just pick up the phone and call me at 1-800-941-8010, or read below for more information about each destination.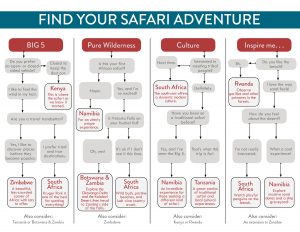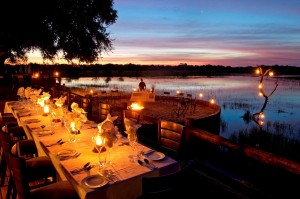 Botswana: We often say Botswana is Africa "for purists" and those who seek unspoiled nature far from the touristed routes. Botswana offers a variety of ecosystems to choose from or visit all on the same safari—the Kalahari Desert with its famed black-maned lions and the Okavango Delta with its incredible amount of bird species and diverse game. It's also a quick flight to see Victoria Falls. Game-viewing is good year-round but is easiest during the dry season, June-October, when vegetation is sparse.
South Africa: South Africa is often described as "the world in one country," and it really does have it all. It is one of the most biodiverse places on the planet with a superb wine country and culturally-vibrant Cape Town to explore. You can experience a land-based safari one day, then hop aboard for a marine safari on the coast the next, including shark cage-diving! South Africa can be a year-round destination with careful planning, but July-November is peak time for game viewing in Kruger's private reserves.
Namibia: Namibia is a land of striking contrasts from towering sand dunes to beaches strewn with ship skeletons. Ancient tribes retain nomadic traditions in the stark beauty of the oldest desert on the planet, not only one of the driest places on earth, but also one of the darkest—phenomenal for star-gazing! The unique animals found here have adapted to the desert conditions. Namibia is great year-round, but if you want to go to Etosha National Park, plan to go from June-October.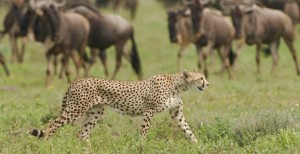 Kenya: Kenya is well-known for its safaris and for good reason, with some of the best national parks and game reserves in Africa. From the famous wildebeest migration, to the large concentrations of birds on the Rift Valley lakes, to hot air balloon rides above the Masai Mara, there are numerous opportunities for experiencing the landscapes and wildlife. Game-viewing is good year-round but July-September is best for the Great Migration.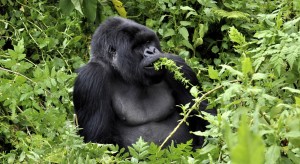 Rwanda: Known for its endangered gorillas, this adventure hub offers active nature lovers the option to hike forest-clad volcanoes to see some of Africa's most iconic creatures. With fewer than 900 gorillas left in the wild, gorilla tracking in Rwanda is an experience that is unmatched. Since the tragedy of the 1994 genocide, Rwanda has gone through a remarkable transformation. Head to Rwanda in the short dry season from mid-December to early-February or in the long dry season June-September.
Zimbabwe: Zimbabwe is a re-emerging safari destination and offers a wide range of habitats that are easily explored by open-air vehicle, boat, and even on foot—a rare privilege on safaris—with some of the most experienced walking safari guides in Africa. If you want to see elephants, Zimbabwe has one of the most concentrated population of elephants on the continent. The best time to go to Zimbabwe is July-October, during the dry season, but the Hwange offers good viewing opportunities year-round.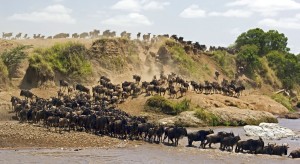 Tanzania: Head to Tanzania if you want your breath taken away by seemingly infinite vistas and a menagerie of creatures. The Great Migration arrives in the southern Serengeti by December, and during February and March, the wildebeest (and other species) give birth to their young in the southern Serengeti. July-October is best for the Western Corridor and Northern Serengeti. You can even tack on an extension to explore Zanzibar's white sand beaches and historic Stone Town, with its unique and exciting cultural mix of African, Indian, and Middle Eastern influences.
Zambia: Zambia is one of the region's least-traveled and most rewarding wildernesses, making it one of our favorite destinations. It features some of the wildest and most remote game areas on the continent, as well as exciting adventures in the town of Livingstone and the absolutely must-see Victoria Falls. For game-viewing, it's best to go July-October.