On the Trail: Tour du Mont Blanc
In August, I was thrilled to join one of our groups on the Tour du Mont Blanc. As the most recent addition to the Boundless Journeys home team, it was important for me to experience what we do first-hand, how our tours operate, what our guides do, and learn about our guests and the destination. I sent these updates to everyone back in the office:
DAY 1
I arrived in Chamonix on a beautiful day! To kick my jet lag, I took the cable car to Aguille du Midi, the closest point that non-climbers can get to Mont Blanc, at over 12,600 feet. As I neared the top, the clouds rolled in. It was so thick that I couldn't see anything in front of me until I got to the landing point. As I stepped onto the platform, I lamented the fog. But then, as if on cue, the wind started blowing the clouds away, and suddenly in front of me was Mont Blanc, the glacier, and dozens of other barren peaks. I could even see tiny dots marching towards the summit.
We met our guides, Eric and Sebastien (or Seb for short), in the lobby of Hotel L'Oustalet, and soon we had our entire hiking group gathered. Eric and Seb gave us an overview of the trip and what to expect for the following day's hike, and then we walked the short distance to a restaurant serving authentic Savoyard fare. I ordered Raclette, a delicious regional specialty involving a half-wheel of cheese that melts layer by layer under a hot burner. The liquid cheese is then traditionally eaten with cured meat and potatoes. What an introduction to the Alpine region!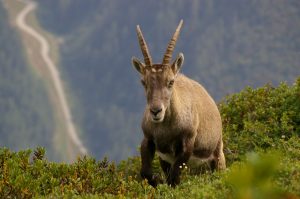 DAY 2
Today's hike was definitely useful to get our legs accustomed to ascents, our knees prepared for descents, and our shoulders ready for our day packs. We hiked a loop to Lac Blanc, a beautiful, crystal clear lake. The water was cold, and there was even some snow on the perimeter. We saw a couple of marmots (basically large Alpine squirrels) and then came across an ibex just a few feet off the trail, munching happily on a patch of grass and definitely not camera shy!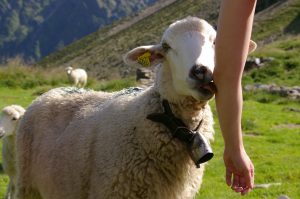 DAY 3
This was our first day on the TMB proper. We had a steep ascent up to the Col de Tricot where we rested for a bit. Several hundred sheep were pastured up there and wandered over to say hello. The way down was a slightly gentler grade, but it was steady, and when we got to the Refuge de Miage for lunch, everyone's knees were happy for the rest, and I was grateful for my hiking poles!
The afternoon featured another pass though some beautiful Alpine forest. We ended the day walking straight into our hotel and almost everyone soaked in the hot tub before dinner.
DAY 4 & 5
Yesterday was our longest day, but we were rewarded with amazing sweeping views. It sprinkled a bit in the afternoon, so we stopped at a mountain hut for drinks and let the rain pass. Seb likes to order something called menthe de l'eau, which is mint syrup in water. It's bright green, and he jokes that it's usually a drink for kids. But it's refreshing after a day of hiking!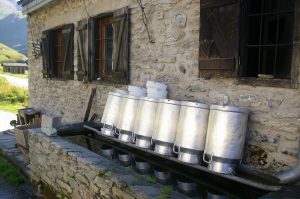 Today, we stopped met a cheesemaker of the regional Beaufort cheese. Eric bought a chunk to include in our picnic lunch. We went up and over a pass, right into Italy, with only a stone cairn indicating the border. We stopped for lunch off the trail on the Italian side (and enjoyed the Beaufort with fresh bread), and stopped at a little renovated hut with a relief diagram of the TMB. Eric pointed out our route, and it was amazing to see how far we'd walked already! We finished the day along a river on our way down to meet our transfer to Courmayeur, an adorable resort town with a pedestrian-only main street and delicious restaurants.
DAY 6 & 7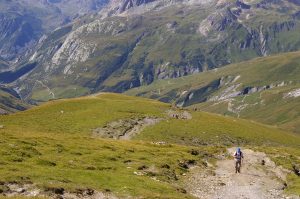 Our last snack stop in Italy was at a restored mountain hut with great views over a river valley and a glacier. We fueled up for the steep and steady climb to the next pass that would bring us into Switzerland. There is definitely a difference in the landscape. The Italian mountains are much more rugged and craggy, while the Swiss side is smoother and grassier.
The weather has been fantastic, if not a little bit hot, but here in Switzerland, we're hiking more in the forest, which helps protect us from the sun. Every turn in the trail offers another amazing view. Earlier today, we could see the Rhone River and some of the towns in the valley. We saw the tell-tale green stripes of vineyards and had some Rhone Valley white wine with dinner.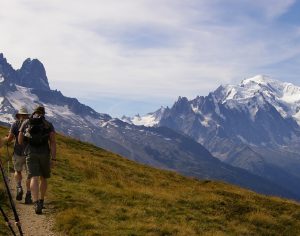 DAY 8
Today, we took a spur trail off the official TMB (because Eric and Seb both agreed it's more scenic) and only came across 2 or 3 other hikers until we stopped for lunch. Just after we crossed back into France, as we came upon the last part of the ascent, the tip-top of Mont Blanc's summit came into view. The mountain grew with each step, until we reached the crest and had the full Mont Blanc massive in front of us. We all felt very accomplished at having come full circle.
We made our way down to Le Tour and finally back to Chamonix. We had a couple of hours to explore the town (or nap!) before dinner and then made our way to a restaurant tucked down a small road, away from the city center—a favorite for locals (Eric pointed out the owner of a Chamonix ski resort at one of the tables). It was superb, and I couldn't think of a better place to end our incredible adventure.