10 FAQs about African Safaris
If an African safari is on your Bucket List, you are certainly not alone. Newcomers to safaris sometimes don't know where to start, and safari alums sometimes have questions about other regions or experiences. So, what is it like to be on safari? Below, we've answered the 10 most commonly asked questions about our African safaris to help start you out on your safari planning. Of course, As the Africa Specialist here at Boundless Journeys, I'm always here to answer any other questions that come up, as I've been on numerous safaris in various countries, so please get in touch if I can help further: karen@boundlessjourneys.com or 1-800-941-8010.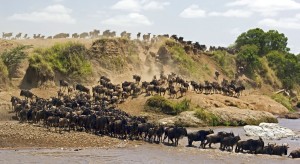 When is the best time to go?
This depends a little bit on where you want to go. The dry season, which is generally from June-October, is easiest to see game since there is less foliage in the way. However, if your vision of the Great Migration is seeing the herds crossing the big rivers of the Serengeti and Masai Mara, go between July and September. The green season comes with baby animals and verdant landscapes, so that is also a wonderful time to go on safari.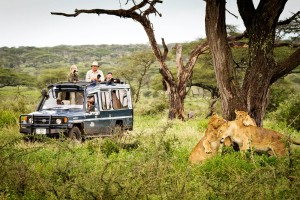 How long should I go on safari?
We typically recommend at least 6 days if you just want to stay in one or two regions near each other and have a good chance at seeing all the wildlife on your list. For a more comprehensive experience in one country (or two neighboring countries), our small-group safaris are 9-11 days, and for custom safaris, the sky's the limit—want to combine Namibia, Cape Town, Tanzania, Rwanda gorilla trekking, and a beach stay at Zanzibar? We recommend at least 3-4 weeks.
Is it safe?
Our safari guides are extremely well-trained and have a lot of experience in wildlife behavior to know how to approach and observe animals and to spot when one is agitated for some reason. When in safari vehicles, the wildlife tends to see us as just a strange-looking metal-clad large animal in their midst. As for being out of the vehicle, trails guides (those trained for leading walks in the bush) must complete extensive firearms training and always carry rifles (or will be accompanied by a ranger with one) in the event a situation requires it. However, as our guides will tell you, they rarely use them and instead rely on their instinct and training to prevent anything from escalating. In short, yes, safaris are very safe so long as you listen to your guide.
Where can I go to see the Big Five—especially cats?
In nearly all of our African destinations, (except Rwanda), you'll have the chance to spot the Big Five—lion, elephant, buffalo, leopard, and rhino—especially given enough time. But for cats, your best bet for seeing a lot of them would be South Africa, Botswana, or Kenya.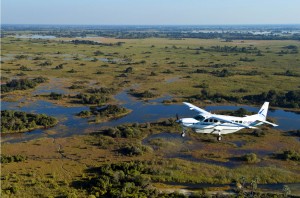 Where is the best place to go with a lot of animals but few other people?
Whenever possible, we favor using camps and lodges that are remote, small, and on private reserves, so you won't see masses of safari vehicles on your game drives. There are exceptions, and iconic areas like Tanzania's Ngorongoro Crater or Kenya's Masai Mara do attract a lot of safari-goers. To really get away from anything resembling a crowd, Zambia is one of southern Africa's least-traveled regions but offers one of the most rewarding wildernesses. Botswana and Namibia also fit the bill.
Where can I go for an authentic cultural experience as well as to see animals?
For a tribal experience, you can visit the Himba people in Namibia's far north, and Maasai villages in Kenya and Tanzania. Also, many of our Botswana guides hail from the local tribes of the Okavango Delta. If you're looking for some modern culture, you can't beat Cape Town with its music and arts scene and award-winning restaurants.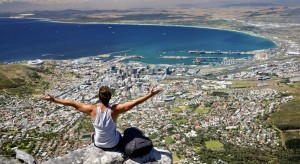 What else can I do when I'm in Africa?
Take a flight over Victoria Falls, one of the Seven Wonders of the Natural World. You can go on a marine safari off Cape Town to spot sharks, whales, and penguins (and go shark cage diving if you'd like). You can visit a local village school in Zimbabwe for one of the most uncontrived cultural interactions anywhere, meet cheetahs at a rehabilitation center, go ballooning over East Africa's epic plains, horseback riding, mountain biking, and even hiking.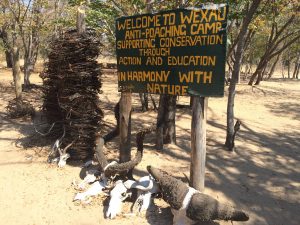 Why are safaris so expensive?
Simply put, you get what you pay for. Staying on exclusive, private reserves means smaller, boutique camps and lodges, fewer people crowding to see the animals (in fact, you may be the only ones for miles), and more experienced guides. Moreover, we limit the seating in the safari vehicles so that everyone has a window seat. In addition, many of the costs of operating game reserves are not apparent to the average visitor, but are incredibly important for conservation efforts. Anti-poaching patrols, for example, are costly, and a portion of your safari cost goes directly to supporting these efforts.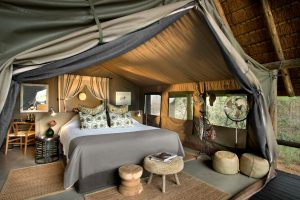 I'm not into camping, will I even like being on a safari?
Have you heard of "glamping?" The permanent and seasonal mobile tented camps on our safaris define that term—glamorous camping—with a real bed and linens, wood floors, private flush toilets, and hot water. The only resemblance to true camping are the canvas walls and ceiling.
I still can't decide where to go, what are the differences between safari destinations?
There is a lot to unpack in this question, which is why we wrote a blog post, "Which African Safari Destination is Right for You," that further explains what each country offers.