Adventure Travel Guides
Who's Guiding Your Raft?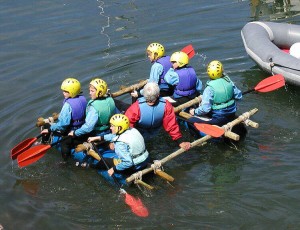 Without question, for me a guide is the most important component of an adventure travel vacation. The cuisine, accommodations, activities, music, and nature of a destination will remain mostly a mystery without the knowledge of a good local guide to help unlock the secrets. Fully immersed in the culture and local to the region you're exploring, a good guide will have the unique perspective that brings you beyond the usual, to the exceptional, and introduces you to the most authentic locales, people, and food. Whether leading you on a camel trek into the Moroccan desert, or uncorking a new vintage in a hidden Riojan bodega, a good guide knows where to go and how to get you there. They have insider knowledge to make spontaneous changes to an itinerary to take advantage of local celebrations, changes in weather, or special events. Conversely, a bad guide can have an equally negative effect on your experience. You are often much better off stumbling around a foreign country on your own, than traveling with a guide who is at your side for no other reason than to collect a paycheck, a propina (tip) for their services (or lack there of), and a commission from the shops they bring you to. They will take you to their cousin's carpet shop, uncle's leather tannery, and grandmother's noodle stand. With a good guide these experiences are offered as a way to meet some of the locals and learn about their customs, with no pressure to buy. With a bad guide they are strong arm tactics to sell you everything but their first born. Not only do good guides provide insight, knowledge, and companionship, they may posses the necessary technical skills for activities such as kayaking, rafting, and biking. In my opinion, it's too great a risk to simply hire a random guide upon arriving at your destination. There are often many tour providers who have been in business for only a short time as they see it as a good way to make some quick money from the tourists they've seen traveling through town. Buy a raft, put up a sign, and they are now a rafting company. Many years ago I was hired to guide for a Bolivian adventure travel company that offered rafting, sea kayaking, biking, and trekking trips throughout Bolivia. It was an exciting opportunity for me to travel and live internationally for a summer. Having previously worked as a rafting and sea kayaking guide, completed a swiftwater rescue course, and having just become a Wilderness Emergency Medical Technician, I felt that I was prepared to accept the responsibility of ensuring our guests safety. What I experienced on my first day of work in Bolivia was something that left a lasting impression, and magnified the difference between good guides and really bad ones. New to the operation I was just along for the ride on the first day, but what I witnessed left me with the conviction that there needed to be big changes in the operation or I would be saying adios. It appeared that the local guides assigned to guide the guests on this class IV rafting trip had been in a raft only a handful of times previously. There was no safety talk given to the guests about what they might encounter on the river, and the guides were not carrying the necessary equipment to safely conduct the trip. The guides lack of knowledge about the river (and the sport) also translated into getting off the river way after dark (a number one no no when river running). We were quite fortunate that everyone made it through that trip unscathed, and it would be the last time that a trip was run that unprofessionally as long as I was guiding for the company. When planning a big adventure trip for yourself, your friends, and your family, do yourself a favor and travel with a reputable operator who has hired the best guides and invested in their training. The rewards that a good guide will deliver are immeasurable. Don't just take my word for it though, watch this short Monty Python video for a good example (and a good laugh!) of who you do not want to be traveling with. I can assure you, this guide is not, nor never was, part of the Boundless Journeys team. Meet some of our guides who are true professionals, and the best in the business.