An Iceland Adventure and Exploration
An Iceland adventure shows that it is truly the land of fire & Ice. I was lucky enough to tour and hike through this austere and fascinating country last week.
I thought, a trip to Iceland in February? Perhaps not my first choice of a mid-winter getaway from Stowe, VT. However, as the temperature rarely dipped below freezing with prevailing sunny skies, and warm thermal mineral baths at every turn, I was pleasantly surprised.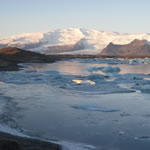 I began my Iceland trip with a visit to the Vatnajökull Glacier, the largest glacier in Europe located on the east side of Iceland. After an early morning flight to the town of Hofn, we arrived at the Jökulsárlón Glacier Lagoon just as the sun was coming over the horizon. With silence surrounding us, icebergs slowly floated along the lagoon as seals resting soundly enjoyed the ride.
All around the lagoon were inspiring snow-covered peaks aglow with the pink color of the morning sun. Afterwards, we visited a black sand beach littered with icebergs on the sand and in the crashing waves. After breathing in the purest air imaginable, I felt invigorated, and ready for lunch.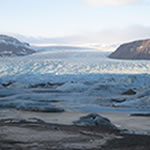 We dined on lobster tails and Icelandic chocolates at a local hotel before continuing on to our afternoon adventure – riding ATV's to a tongue of the Vatnajökull glacier. Whizzing by the immense landscape on these open air vehicles was awesome. As I stood at the base of the glacier feeling very small compared to its massive size, I was very much at peace with nature. The day ended with a spontaneous visit with Icelandic horses, the most friendly and good natured horses I have ever experienced.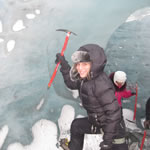 Another day of my Icelandic adventure included a walk on the Sólheimajökull glacier. With a group of nine other women and our guide, we sported crampons, a harness and ice axes as we explored the ice field. Quite unsure of my footing at first, I soon got the hang of "setting" my foot in the ice with each step. As we toured ice caves and peered into crevasses, I came to understand the dynamic nature of glaciers and their ever changing beauty. On the way back to Reykjavik, we stopped at the enthralling Skógafoss Waterfall, cascading 200 feet to the ground. It is said there is a treasure chest of gold hidden behind the falls waiting to be found.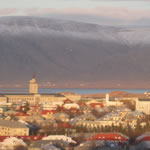 Back at Reykjavik, the location for the travel seminar, I explored this European city which is quite sophisticated for its small size. With plenty of coffee shops, trendy boutiques and thrift stores to discover by day, and night clubs and fine dining to discover at night, this city has a lot to offer. Not to mention the incredible views of the ocean and snow-covered peaks in every direction.
No trip to Iceland would be complete without a visit to the Blue Lagoon, my last stop before heading home. As I soaked in blue thermal waters, and applied a natural mud pack to my face, I began to understand why Icelandic people are so well known for their beauty and good health. Breathing clean air, drinking pristine glacial water, dining on fresh fish, soaking in mineral baths, and being so close to nature all had me feeling revitalized and refreshed.
Join Boundless Journeys for an unforgettable tour to Iceland this summer; June 20-27, July 18-25, or August 8-15. For more information, click here, or email the Iceland tour manager Karen Cleary at Karen@www.boundlessjourneys.com.
Join Our Inner Circle
E-mail is the best way for us to let you know first about new trips, travel tips, special events, and current promotions. Sign up for our e-newsletter, e-mail your name and address to info@www.boundlessjourneys.com, or give us a call (800-941-8010) and we'll keep you in the loop! We respect your privacy and will never sell or share your e-mail address with any third party company, and our unsubscribing process is easy and prompt.