The Best Adventure Travel Books
When you're not making your own adventure travel memories, a great travel book is often the best way to bridge the gap. Immersive and beautifully written, these 10 books will whisk you away to far off places—all from the comfort of your own home.
1. On the Road by Jack Kerouac
Kerouac's timeless novel inspires the rolling stone in all of us, capturing the brave eccentricity of the post-WWII Beatnik generation and the vibrant American landscapes—from New York to L.A.—that inspired it.
2. Down and Out in Paris and London by George Orwell
Two of Europe's finest cities are the focus of this book, which chronicles the adventures of a penniless British writer experiencing society alongside the down-and-out citizens of Paris and London.
3. Green Hills of Africa by Earnest Hemingway
On the plains of East Africa in 1933, Ernest Hemingway's lyrical journal captures the thrill and ferocity of a month-long, big game hunt while painting a detailed portrait of Africa's dynamic landscapes in all their glory.
4. In a Sunburned Country by Bill Bryson
Best-selling American author Bill Bryson provides a humorous account of his time in the vast, quirky, and ultimately charming country/continent of Australia—a place with an endless supply of dangerous wildlife, cold beer, and radiant sunshine.
5. The Old Patagonian Express: By Train Through the Americas by Paul Theroux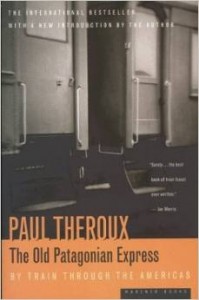 Theroux's lesser-known train travel novel charts his journey through South America on the rickety Old Patagonia Express, providing a backdrop for Theroux's adventures in dusty Mexican border towns, through El Salvador and Costa Rica, along the soaring Andes of Peru, and down to the remote, windy heart of Patagonia.
6. The Innocents Abroad by Mark Twain
Twain's 1867 travel novel made him an overnight sensation and today it still shines, capturing the wonder, humor, and occasional irritation that accompanied the author—and all travelers before and since—on his trip from New York to Europe and the Holy Land.
7. The Snow Leopard by Peter Matthiessen
The journey is as much inside as it is out for Peter Matthiessen who, in 1973, traveled with a biologist friend to the remote mountains of Nepal to study blue sheep, expand his knowledge of Zen Buddhism, and—if he's very lucky—catch a glimpse of the rare Himalayan Snow Leopard.
8. Travels with Charley in Search of America by John Steinbeck
With only his French poodle Charley to accompany him, at age 58, Steinbeck set out to discover the "real America" in all its glory. From long stretches of open road, to Yellowstone National Park, and on to San Francisco, the author examines racial tension, loneliness, and the unexpected kindness of strangers.
9. In Patagonia by Bruce Chatwin
"Have gone to Patagonia" was the telegram Chatwin famously used to quit his Sunday Times Magazine job and disappear into the wilds of Patagonia in 1974. We're glad he did. The author's sparse prose perfectly captures the forgotten legends, tempestuous history, and vast allure of this, "the uttermost part of the earth".
10. Arabian Sands by Wilfred Thesiger
The parched, desert sands of the Middle East are the setting for this Ethiopia-born British diplomat's 1959 novel, which chronicles his desire to escape the trappings of Western life behind during a five-year odyssey among the bedouins of southern Arabia.
Book cover photos from Amazon.com.