When to go on safari?

Planning an African Safari: When is the best time to go?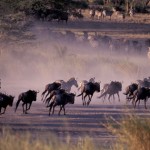 With expert advice, it is possible to plan an unforgettable African safari at nearly any time of year. That being said, each country, and specific regions within each country, have high seasons and low seasons, and varying highlights at different times of year. If you've been contemplating a safari in Africa, the following is a primer to help you get figure out that most common of questions: When is the best time to go?
Best time to go to Botswana: Year-round; June-October for easiest wildlife viewing
The classic safari route from Maun, Botswana to Livingstone, Zambia threads through the famed Okavango Delta to the Linyanti/Selinda reserves, and ends in the vicinity of Victoria Falls just over the Zambezi River in Zambia. For this itinerary, the best game viewing is from June-October, but really the game viewing is very good year-round in these regions, and we can help you select the very best places to go based on your specific dates.

Best time to go to Kenya: Year-round; July-September for the Great Migration
Kenya is a year round destination and has many highlights to offer visitors throughout the year. In January and February the animals gather around water sources, making for easy game viewing. There are also large concentrations of bird life on some of the Rift Valley lakes around this time. From July to September the famous wildebeest migration is traditionally present in the Masai Mara. The incredible migration only happens in East Africa, and around this time the grasslands of the Masai Mara are often covered by massive herds of migrating wildebeest as far as the eye can see. For those who want to extend their safari with some time at the beach, October to January is also a good time for snorkeling and diving off the coast.
Best time to go to Namibia: Year-round; June-October for peak game viewing in Etosha
Namibia is a year round destination with coastal areas offering excellent game-viewing all year. Mainly comprised of the Namib desert — the oldest desert on the planet and one of the driest on earth — Namibia offers unique desert-adapted wildlife, landscapes of startling beauty, and well-preserved Himba culture.
Best time to go to the Republic of the Congo: December-February and May-October
The Republic of the Congo is a small Central African country that is not to be confused with the larger, and currently unsafe for travel, Democratic Republic of Congo (or DRC, formerly known as Zaire). Enjoying peace since a cease-fire ended a civil conflict in 2003, this country is slowly developing its tourism infrastructure. Although facilities are limited, there are some very exciting developments happening in the Odzala-Kokoua National Park, where Western Lowland Gorilla trekking is offered with several distinct advantages over gorilla trekking in more traditional places like Uganda or Rwanda.
Best time to go to South Africa: Year-round; July-November for peak game viewing in Kruger's private reserves
South Africa can be a year round destination with careful planning. In addition to great game-viewing opportunities (particularly in the private reserves bordering Kruger National Park, such as Mala Mala), South Africa offers diverse adventures and an important cultural heritage. A stay in Cape Town is a worthy addition to any safari in Southern Africa.
Best time to go to Tanzania: December-April (Migration in the Southern Serengeti) or July-October (Migration in the Western Corridor and Northern Serengeti)
Tanzania is a year round destination. Due to its close proximity to the equator there are only subtle climatic variations throughout the year. Generally the coastal areas have a tropical climate, the highlands in the north a temperate climate and the vast central plateau is hot and arid. The great migration arrives in the southern Serengeti by December, and during February and March the wildebeest give birth to their young in the southern Serengeti.
Best time to go to Zambia: July-October
The national parks and private reserves in Zambia are best for wildlife viewing during the traditional safari-going months of July-October. A visit to the Zambian side of Victoria Falls (Livingstone) is best during the high-flow months of February-May, but due to its proximity to the prime safari areas in Botswana, an overnight or two in Livingstone to see the falls and have a sunset cruise on the Zambezi River is a worthwhile add-on at any time of year.
Best time to go to Zimbabwe: July-October
The national parks in Zimbabwe are best for wildlife viewing during the traditional safari-going months of July-October. Walking and canoeing opportunities abound with Zimbabwe boasting some of the most experienced walking safari guides on the continent. Zimbabwe is a great choice for an adventurous safari that will get you up close and into the wilderness!
For more safari planning advice, see www.boundless-safaris.com, or call 1-800-941-8010 to speak with a Boundless Journeys Africa Specialist today.
About Boundless Journeys
Boundless Journeys is an award-winning small group adventure tour operator. With a diverse collection of locally guided, small group itineraries and Private Collection trips around the world, Boundless Journeys offers "The World's Great Adventures." The adventure trips for 2-16 guests are active, ranging from leisurely cultural explorations and wildlife safaris to challenging trekking ― with plenty of easy to moderate walking and sea kayaking in between.