Discover desert grandeur on Customized Namibia Safaris with Boundless Journeys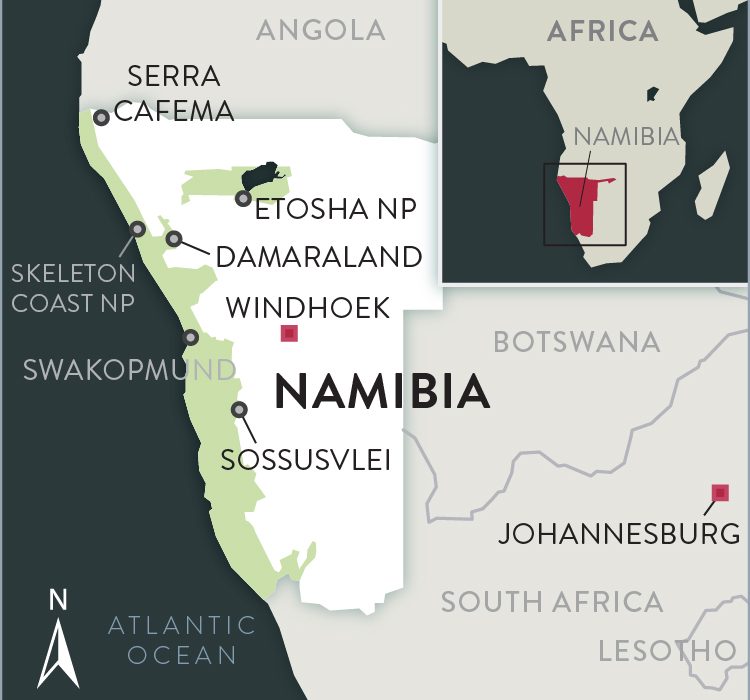 Aptly named after the Namib—the oldest desert on the planet and a sea of red sand along the Atlantic coastline—Namibia is celebrated for its vast open landscapes, infinite supply of blue skies, sun-drenched weather, and star-filled nights. It is a beautiful country meant for exploring, and a custom Namibia tour with Boundless Journeys allows you to explore at your own pace.
Over the years, a number of cultural influences have added to the unique atmosphere of Namibia. At various times Germany, Great Britain, and South Africa have all governed the territory, but it was through the eventual independence of Namibia in 1990 that the country was able to develop its multicultural character and reinvent itself. There is a distinctive Namibian character that freely blends African styles with European influences in architecture, food, customs, and art.
All this is in interesting juxtaposition with the expansive desert landscapes that surround the cities. The many national parks and game reserves boast a huge variety of wildlife in a kaleidoscope of differing environments: the white saltpans of Etosha National Park, the red dunes of Sossusvlei, lonely beaches along the Skeleton Coast, and the virtually uninhabited wilderness of Kunene. Astonishing contrasts are everywhere for you to savor on a Boundless Journeys custom tour of Namibia.
Why Trust Your Custom African Safari to Boundless Journeys?
To develop a collection of truly unique safaris, Boundless Journeys has partnered with some of the best safari outfitters in Southern and Eastern Africa. In addition to experienced guides, first-class vehicles, and a diverse selection of camp and lodge options, our partners' conservation efforts and community-mindedness are great matches for Boundless Journeys' core philosophy.
Namibia Custom Safaris Highlights
What Our Guests Have To Say About This Tour
"
Waking up and looking out our tent in Damaraland, Namibia was stunning. The sun seemed to rise very slowly. Every inch that it rose it seemed to change the color of the landscape. I took photos continuously throughout the sunrise and got drastically different colors. The entire landscape shifted from deep pinks to blazing red and oranges. Absolutely breathtaking.
"
"
Every day was different and all of the sights unusual and different from each other...we had real flavor of the country and Jimmy was knowledgeable, had good humor and was accommodating in changing our route one day so we could visit a Himba village...
"
Write a Review
What To Expect
We Take Care of the Details
From providing accommodation options based on your budget, to recommendations on pre- or post-safari travels, assisting you with booking regional air, and meeting you at the airport when you arrive: Boundless Journeys can help you with each step in planning your custom safari. We will seamlessly guide you, so that you can simply relax and enjoy the adventure of a lifetime in Namibia.
Weather
As one of the driest deserts in the world, rainfall is negligible, although statistically higher from January to April. April to September is characterized by coastal fog especially in the mornings. Average high temperatures year-round are pleasant, although when the fog burns off, temperatures even on the coast can get into the 90s. Inland, the hottest months are October to February, when you can expect average daytime highs in the 80s.
You may obtain other regional weather information at www.weatherbase.com.
When to Go
Namibia is a year-round destination with coastal areas offering excellent game-viewing all year. Mainly comprised of the Namib Desert - the oldest desert on the planet and one of the driest on earth - Namibia offers unique desert-adapted wildlife, landscapes of startling beauty, and well-preserved Himba culture.
In terms of wildlife viewing, many agree the following are the best times to go to specific regions:
Etosha National Park and Ongava Game Reserve: April - December; June - October for peak game viewing
Namib-Naukluft National Park and Kulala Wilderness Reserve: Year-round
Skeleton Coast National Park, Damaraland, Kunene: Year-round