Boundless Guides Make You Feel at Home, Anywhere in the World
What makes a Boundless Journeys guide so spectacular? To begin, our guides live in the region where they are guiding. They may know the chef at that lesser-known, but surprisingly good trattoria, or perhaps they will spot an old friend on the trail who invites you to his home for lunch. When you travel with a Boundless Journeys guide, your experience is that of friend and local adventurer. You are welcomed with a hearty "hello" and a genuine smile, and spontaneity unfolds.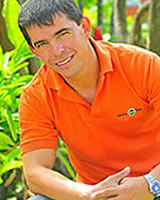 Additionally, our guides bring years of life experience to their work. Not only are they knowledgeable and experienced on the trail, but many of them are also art historians, musicians, writers, farmers, researchers, archeologists, photographers, community leaders, and mothers and fathers extraordinaire. I don't believe we have any professional comics on staff, but you can bet there will be many laughs. Our guides make every journey FUN. It will be hard to believe they are at work as they cajole you into trying a new food, stepping off the zip-line platform, or reaching the summit of a trail.
How do they do it time and time again? There is only one way. They love what they do. Our guides have a passion for their country and for introducing it to others. They have seemingly endless energy and enthusiasm, and by the end of the tour, you will undoubtedly have made a new friend.
But don't just take it from us. Here's what some of our guests had to say:

"The trip met and exceeded all my expectations, in all respects, but especially Marco (Tex), the guide. Not just a guide, but also an educator, he was over the top in personality, energy, enthusiasm, knowledge, and attention to every detail. He will forever be the benchmark for every future trip I take. The trip was memorable, but he made it unforgettable." – M.S., Costa Rica
"The number one key to such an amazing trip was our guide, Sebastian Jurado. He was just perfect, and we all loved him, especially my mom! I couldn't have imagined a better guide. I was so impressed with how he keenly assessed our needs and my parents' needs and then made sure we had everything we wanted and needed. He struck a perfect balance between our varying interests and kept us all on cloud nine throughout the entire trip!" – J.W., Ecuador
"Each trip has been unique and wonderful with its own charms. The area I have been repeatedly impressed with is the guides. Every guide has been exceptional! Very different personalities, but all knowledgeable, friendly, adaptive, good leaders, patient, and all amazing representatives of their countries." – S.K., Iceland
"Mahmut is an exceptional guide. Really the best. With an exceptional guide, the experience is exceptional!"  – V.M., Turkey
"Alessandro, our guide, was not only very professional but became one of us and made our journey totally fantastic; the tour was well structured and organized; it was one of the most memorable and precious adventures and journeys we have ever had and we will treasure it for the rest of our lives!" – M.W., Italy
Come experience our guides first-hand. Reserve a 2014 group tour by May 15th and save $300 per person.* For more details call 1-800-941-8010, or visit www.boundlessjourneys.com.
* Must be booked directly with Boundless Journeys. Not combinable with other promotions or single supplement savings.
About Boundless Journeys Boundless Journeys is an award-winning small group adventure tour operator. With a diverse collection of locally guided, small-group itineraries and Private Collection trips around the world, Boundless Journeys offers "The World's Great Adventures." The adventure trips for 2-16 guests are active, ranging from leisurely cultural explorations and wildlife safaris to challenging trekking ― with plenty of easy to moderate walking and sea kayaking in between.