Tuscany Walking Tours – The Festive Fall Harvests of Italy
Excerpt from Forbes Traveler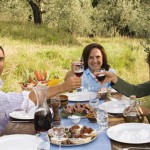 Discover the bounty of fall on our Tuscany & Umbria walking tour, Oct. 11-18, with Boundless Journeys. Call 800-941-8010 and speak with destination manager Deborah Tobey to learn about some exceptional offers.
About Boundless Journeys
Selected as one of the "Best Adventure Travel Companies on Earth" by National Geographic Adventure, February 2009; and as the #7 Best Tour Operator in the World by Travel & Leisure, August 2009
If diversity of adventure is what you are seeking, Boundless Journeys has trips to satisfy your most imaginative spirit. Offering worldwide adventure tours, featuring experiences ranging from wilderness treks to cultural journeys, we always find the hidden gems of each destination. Small group or private itineraries, memorable accommodations, and expert local guides define the signature Boundless Journeys adventure travel experience.